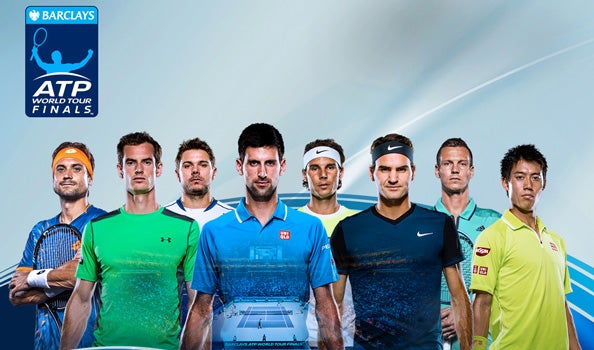 5 July 2016
EVERYTHING You Need To Know About Tennis This Summer
British summertime is finally upon us (apparently) and for those of a sporty persuasion, it means one thing; rain, strawberries and TENNIS!
Okay, that's three things but they all add up to one; a load of scream-inducing, ball flying, tennis-ing fun. Whether you're watching on the box or from a box, don't miss out on the action. We've rounded up what's happening in this year's tennis calendar.
Best of British

Great Britain has had its fair share of ups and downs of late, so it's perhaps good timing for us all to get absorbed in Wimbledon. What else sums up the quintessential British values better than rain, royalty and glorious, heroic failure?
Players curtsy if the Queen is present in the Royal Box; fans queue politely and patiently for tickets - probably in the rain - and players observe a strict, all-white dress code. Federer was once pulled up by organisers for having an orange flash on the soles of his white trainers!
We're just as excited as you, @vis6!
It's Pimm's season, where everyday it's acceptable to have a glass and watch tennis 🍹🎾🍓 #yay #Wimbledon #summer #comeonsunshine

— Vicki Sait (@vls6) June 27, 2016
Around the world action

When the Wimbledon juggernaut rolls out of, er, Wimbledon, the circus will move to the Davis Cup quarterfinals where Great Britain takes on Djokovic's homeland of Serbia, and the German Open in Hamburg will also be underway.
The Cincinnati Masters kicks off in August – and if this year's instalment is as thrilling as the last (namely Federer's 90-minute crushing of Djokovic) – it will be well worth a watch.

The city that never sleeps...

Then it's all eyes on New York for the US Open, the last Grand Slam event on the tennis calendar. This is about as far from Wimbledon as you can get. Out with the stuffy dress code and library-style atmosphere, and in with colour, noise and (most importantly, we think) the best international food vendors.
Still, it's comforting to know the US Open isn't completely different to Wimbledon; the tournament FAQ website carries the question: 'What happens if it rains?' alongside queries about what to wear, what to shout, and even what to do if the ball lands in the stands. (You throw it back, in case you were wondering).

London calling (again)

Then, in November, it's back to London for the ATP World Tour Finals at The O2 arena, where the world's best will do battle on the banks of the Thames. By then, we'll know more about whether anyone can break the Djokovic-Federer-Murray-Nadal stronghold on major tournaments, if the legendary Bryan brothers can regain theirs and if teenagers like Borna Ćorić and Hyeon Chung can make their mark.
Before that, there's the small matter of the Olympic Games in Rio - where Federer, winner of everything else in the game - has what could be one last shot at a singles gold medal for Switzerland. He'll be 38 by Tokyo 2020, and a Rio singles gold would be a fitting swansong for one of the game's greats.