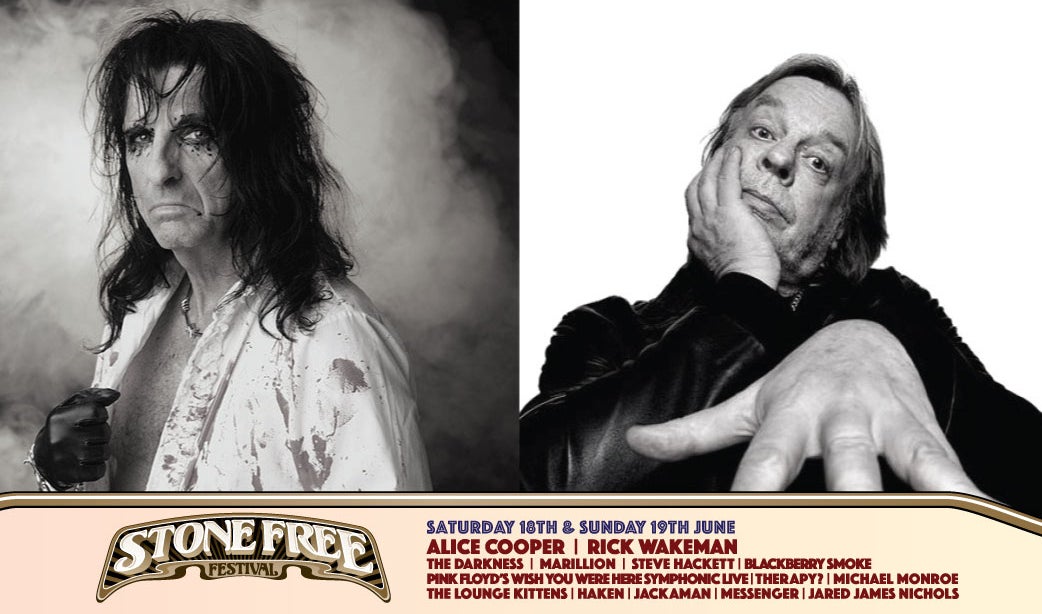 14 June 2016
Everything You Need To Know About The Stone Free Festival!
The Darkness, Alice Cooper, Rick Wakeman and Pink Floyd's Symphonic Live are just four amazing acts playing at Stone Free Festival. There's also a vinyl fair, live comedy, talks and other specially curated events, making this two-day rocktastic festival one definitely NOT to miss.
With the event upon us, we take a look at what fans can expect from the rock filled extravaganza.
Alice Cooper's going to be there
The Godfather Of Shock Rock, Alice Cooper is performing exclusively at Stone Free. Since the early 70s, he's been wowing and scaring fans in equal measure with his incredible rock 'n' roll horror show. How many other artists can you think of that have a guillotine on stage? And snakes? And zombie nurses? And straitjackets? And swords? You get the picture. Come for the music, stay for the freak show. An icon is right, @georgemcassie!
What was your boa snake called? Julius squeezer! Alice Cooper is a straight up icon!!

— George Cassie (@georgemcassie) 28 August 2013
Rick Wakeman has something special in store
One of the undoubted highlights of the weekend will be Rick Wakeman's headline performance. He's playing his flamboyant, 12-million-selling masterpiece The Myths And Legends Of King Arthur And The Knights Of The Round Table for the first time since 1975. Wakeman will also be taking part in a live Q&A with Roger Dean in the Speakeasy Lounge.
The Darkness – in conversation
In addition to playing live, The Darkness will be hosting a playback of their mega-hit debut Permission To Land and answering questions from the audience. Frontman Justin Hawkins is always entertaining and brutally honest in conversation, so he'll no doubt have a few great stories to tell.
He's not the only one doing some talking. Journalist David Quantick will be interviewing Alice Cooper, and doing a live version of his hit Radio 4 show First Impressions (VIP ticket needed for this). If it's comedy you're after, Nick Helm will be performing. For the full line-up, go here.
Wilko Johnson beats death to be on the line-up
A late addition to the bill, Wilko Johnson will now play Stone Free. The ex-Dr Feelgood guitarist was told he was going to die three years ago, but he was never going to let that stop him. Now fit and healthy, his set is bound to be one of the weekend's best as he rips through pub rock and R & B classics. Definitely something to smile about @Nickfromupnorth, even if Johnson himself won't!
How to get Wilko Johnson to smile - turn him upside down. pic.twitter.com/pPNwie3W1s

— Nick Spence (@Nickfromupnorth) 7 June 2016
Blackberry Smoke, Apocalyptica, Marillion, Steve Hackett and Pink Floyd's Wish You Were Here Symphonic Live are also not be missed.
Bring a record bag and an empty stomach
In addition to the great music and talks, there's also going to be a vinyl fair – where you'll be able to pick up all the classic rock records you don't yet own – plus a cinema screening room, specialist market stalls, merch stands, craft beer bars and street food stalls. All the best things about a festival - but no camping. And it's indoors, so it doesn't matter about the weather. A perfect weekend!