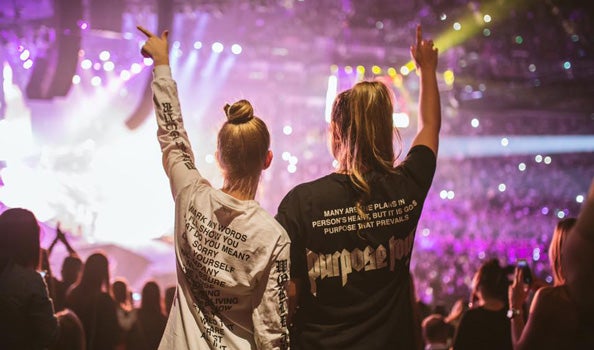 28 Oct 2016
Your EXCLUSIVE Behind The Scenes Pics From The O2
Ever wondered what goes on behind the scenes at The O2? Well, thanks to the power of social media, we can give you a cheeky insight into the happenings - from celebs playing footy, to chilling with their famous mates.
This clip of Justin Bieber playing football before his show left us dribbling! Thanks @drizzy_dan90.
When you working and you catch bieber kicking ball backstage at the o2 arena !! #PurposeTour pic.twitter.com/yLBWQkLraN

— Dan steele (@drizzy_dan90) 16 October 2016
Every girl needs to top up her lippy once in a while, especially if she's going to be singing her heart out to thousands of people at The O2. Thanks to @michaelashton for this glimpse into Adele's makeup routine!
Now here's @anthony_joshua casually warming up for a fight in his dressing room – before going on to KO the opposition!
@anthony_joshua warming up backstage at the O2 Arena in London. Joshua challenges Charles Martin for the IBF pic.twitter.com/q99eHe5M1N

— Boxing Fanatik (@BoxingFanatik) 9 April 2016
Reigning Strictly champ Jay McGuiness obviously couldn't believe his luck when he got to perform at The O2 on the live tour earlier this year. Luckily @LincJeanMarie was there to capture this lasting pic for him!
Last Strictly Come Dancing show at London O2 Arena. Backstage with #jaymcguiness #strictlytour pic.twitter.com/fwZKwhrYOH

— Lincoln Jean-Marie (@LincJeanMarie) 20 February 2016
Imagine coming off stage to find not one but THREE celeb mates well up for an after-party. That's exactly what happened to Ellie Goulding, who revelled the night away with 1D's Niall Horan, John Newman and Scotty T from Geordie Shore, who captured this awesome pic.
And to finish, the fantastic @the1darchives has shared this classic backstage frolics involving Harry Styles, a cake and a whole lotta mess. We hope he cleans up after himself!
One Direction: Backstage Pass O2 (This Is Us) pic.twitter.com/pHOfkzO5IV

— the1Darchives (@the1darchives) 14 October 2016