Home
First time outside of Graceland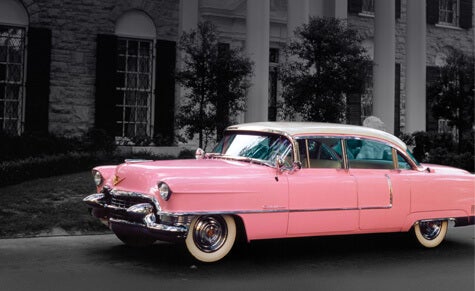 3 June 2015
First time outside of Graceland
One of the world's most iconic cars, Elvis Presley's Pink Cadillac, will be displayed at Elvis at The O2: The Exhibition of His Life for a limited time, beginning Wednesday 17 June, having been shipped over from Graceland especially.
The Pink Cadillac will take pride of place for a limited time alongside the hundreds of iconic items from the Graceland Archives, which are already on display.
Due to overwhelming demand and tremendous critical acclaim, the exhibition is now extending to 10 January 2016.
The Pink Cadillac will arrive at Elvis at The O2 Exhibition in time to celebrate its 60th anniversary year and marks the first time that the car will be on display outside of Graceland. Bought by Elvis on 7 July 1955, the car was originally blue with a black roof, but Elvis had the body work re-painted pink to replace the first pink Cadillac, which had been destroyed after brake lining had caught fire and set the car alight while Elvis was driving back from a gig on 5 June 1955.
The car kept its black roof until an accident in September 1955. It was then that Elvis had the upholstery replaced, the body work retouched and the roof painted white.
Read about Elvis' iconic gold suit, which was also displayed at the Elvis at The O2 Exhibtion.