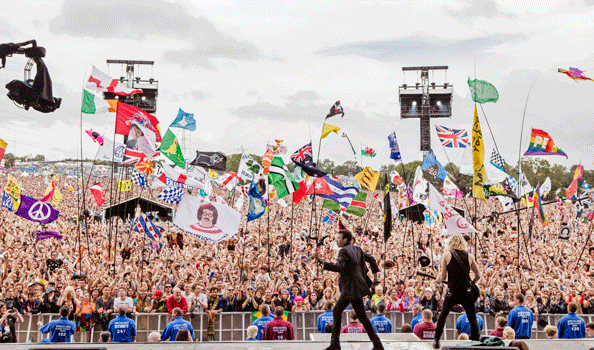 22 June 2016
Glastonbury v The O2: Who Rocked It Best?
One is the world's greatest (and muddiest) music festival, the other is the planet's best entertainment venue. So if a star has performed at both Glastonbury and The O2 - you know they must be special!
Lionel Richie is one such legend. The All Night Long singer performed at the Somerset extravaganza last year, and will play three shows at The O2 in July. Ahead of those dates, we look at five big acts that have done the double – and ask which they rocked best.
1. Arctic Monkeys
Sheffield's favourite dancefloor-fillers played The O2 twice in October 2011 and headlined Glasto in 2013 – and you can bet they looked good on both stages. Highlights of each included all the hits and Yorkshire wit. "We're gonna play all night long," frontman Alex Turner declared in Somerset. They didn't – but at The O2, fans were treated to a mammoth two-hour set.
Verdict: The O2: 1 Glasto: 0
2. Coldplay
Chris Martin's outfit have topped the Glastonbury bill four times, and played The O2 the same number. And little wonder, says @rhudson6 – after all, they're so good they can make even parents look cool.
My parents are going to see Coldplay at the o2, not sure who's cooler right now me or them #probablythem #marrieddatenight

— Ryan Hudson (@rhudson6) May 11, 2016
Verdict: The O2: 2 Glasto: 0
3. Beyoncé
Not every act starts a festival slot being raised to the sky on a hydraulic lift as fireworks explode around her. But then Beyoncé, who kicked off her 2011 Glastonbury appearance in such style, is hardly your everyday superstar. Just ask @xtina_alice who attended one of her six shows at The O2 in 2014.
Highlight of 2014 was with no question Beyonce and Jay Z doing Drunk in Love at the O2 arena

— ✨Christina✨ (@xtina_alice) December 30, 2014
Verdict: The O2: 2 Glasto: 1 (for the fireworks)
4. Kanye West
When he headlined Glasto last year, Kanye West declared himself "the greatest living rock star on the planet" – and who are we to argue? Eight years earlier at The O2, the now Mr Kim Kardashian had already proved his world-beating talent with a show of breathtaking songs and visuals described by one newspaper as "Kanye? He certainly can".
Verdict: The O2: 3 Glasto:1
5. The Killers
When the Las Vegas rockers played two dates at The O2 in 2012, frontman Brandon Flowers ended each hit-packed evening by exchanging high fives with the entire front rows. He had been just as exuberant at Glasto five years earlier donning a gold suit and shoes for the occasion – yet sound problems there probably mean The O2 shows stand out as the best. Winner!
Verdict: The O2: 4 Glasto: 1