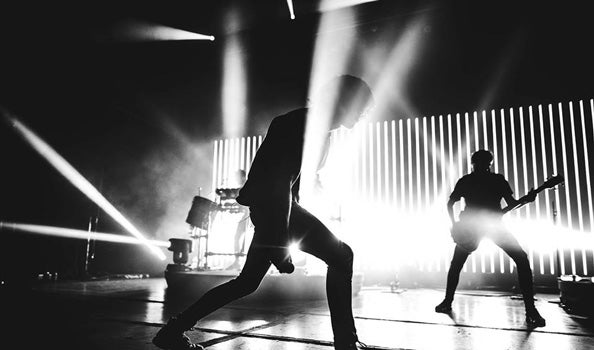 3 Oct 2016
How To Celebrate Halloween London-Style
At first glance, London might not seem like a spine-chilling location to explore your supernatural side, what with its big lights and bustling crowds. But scratch beneath the surface and you'll quickly find the capital has everything you need to celebrate 31 October in style.
Don't believe us? There are no tricks in this Halloween hit list, only treats!
1. Museums at Night
Can't wait to get in the Halloween spirit? Fortunately for you, there are plenty of scary shenanigans going on before All Hallows' Eve, including the Museums at Night festival.
From 27 to 29 October, museums and galleries across the capital will invite enthusiasts to a series of eerie, gory and gruesome late-night exhibitions. The Natural History Museum, the Charles Dickens Museum and Benjamin Franklin House are just a few of the places that'll be opening after hours – who knows, you might even learn a thing or two!
2. Bring Me The Horizon Halloween special at The O2
Metal bands are no stranger to putting on macabre shows, and none more so than Sheffield's finest Bring Me The Horizon.
This year, BMTH will bring their modern metal sound to The O2 on 31 October (naturally!) and Saturday 5 November. With support acts from fellow Brit rockers Don Broco and Enter Shikari, this Halloween special is set to be spook-tacular.
We won't spoil the surprise, but if past Halloween performances are anything to go by, you can expect crazy costumes, stunning light shows and an all-round unforgettable experience. If you're anything like @hollowxgraves, BMTH might even be worth giving up your usual plans.
Matt's going to kill me. We always spend Halloween together, it's our thing. And I'm going to see Bring Me The Horizon.

— Kayla (@hollowxgraves) September 4, 2016
3. The Woman In Black at the Fortune Theatre
Even if you've read Susan Hill's best-selling novel or watched the 2012 film adaptation, there's nothing quite like seeing The Woman In Black on stage. It's been terrorising West End audiences for more than 25 years and is certainly not one for the faint-hearted.
We're right there with ya, @GavinMaze1. Nothing wrong with being a scaredy-cat!
Can safely say that The Woman In Black is the scariest thing I've ever seen in the theatre or anywhere. Turns out I'm a big scardey cat!

— Gavin :) (@GavinMaze1) September 22, 2016
4. Haunted London locations
For the purists out there, an authentic Halloween experience should include a tour of London's most haunted venues - and there are certainly plenty to choose from.
Graveyards are a good place to start, so take a trip to the City of London Cemetery in Manor Park. Residents regularly report seeing a strange orange light appearing from the tombstones, but oddly enough, no trace of a source has ever been found.
If you find yourself needing a stiff drink afterwards, a visit to The Flask at 77 Highgate West Hill may only worsen your nerves. Two ghosts apparently roam this particular pub; a jilted Spanish barmaid who's said to have hanged herself and a mysterious man in a Cavalier's uniform. Make ours a double…