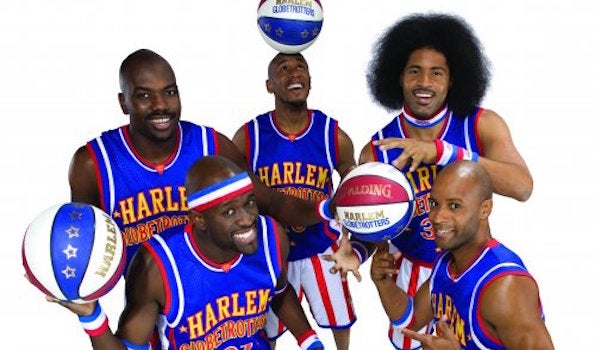 9 Feb 2016
Harlem Globetrotters
A Brief History Of Basketball's Greatest Show
Despite their moniker, the Trotters were actually formed 800 miles from Harlem in the south side of Chicago, way back in the late 1920s as an exhibition side that played matches across Southern Illinois (the all-black team chose Harlem as their 'home' town as it was a hotspot for trendy African-American culture at the time).
Their dazzling trick-heavy style of basketball made them an instant hit with white and black audiences at a time when America was still heavily segregated, helping to break down ethnic barriers in the following decades to the point where they played – and beat – the best team in the world at the time, the all-white Minneapolis Lakers, in a historic match in 1948.
Driven on by the otherworldly talents of dribbling wizard Marques Haynes, and the original clown prince – and hook shot inventor – Reece 'Goose' Tatum, the Globetrotters proceeded to spread the gospel of basketball around the world with their incredible displays of skill and athleticism, which were always heavily-laced with pantomime-style humour.
More than half a century later, the Trotters have evolved into a beloved sporting institution, having played more than 20,000 games worldwide. And although the vast majority of these have been in exhibition format – usually against their eternally inept foils, the Washington Generals – the past decade has also seen them return to their roots by playing competitive games against top American college sides.
Today's live show still contains classic tricks and gags that have been around for decades – including buckets of confetti and water that invariably end up being emptied over the heads of hapless referees – along with updated twists, such as their recent team-up with the cast of Stomp, which @stormeharley describes as 'simply amazing'.
Harlem Globetrotters and Stomp's new routine on a street court is simply amazing https://t.co/FAOqYBC6Hj via @MetroUK

— K Chadwick (@stormeharley) November 5, 2015
It's a truly mind-blowing spectacle that fans of all ages will find impossible not to love when the legendary Globetrotters grace The O2 in April.