How To Bag Yourself The BEST Mementos At The O2 [3 mins]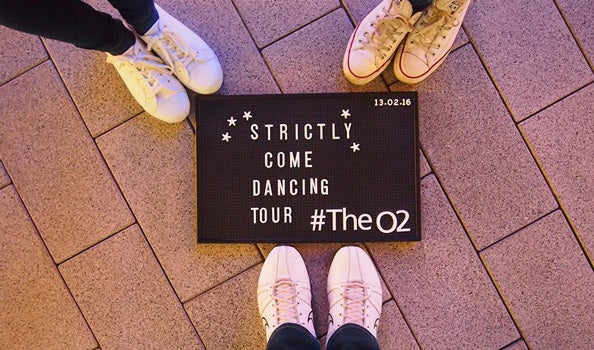 19 Dec 2016
How To Bag Yourself The BEST Mementos At The O2 [3 mins]
You've been lucky enough to spend the day down at our place, but how do you remember your time here? Well, besides the truly amazing snaps you've no doubt taken, we've got a fair few ideas.
Take a look at just some of the best bits and bobs you can take away with you...
Warm up those vocal chords
If you're a Sky customer – or are mates with someone who is – you can bag yourself entry to Sky Backstage. As if this isn't awesome enough, you can make your way to the Soundcheck karaoke studio to show the pros how it's really done.
We'll film you as you belt out your favourite hits – and the best part? You'll be able to download a copy when you get home. Mariah Carey, eat your heart out.
Find our fan photographers
Heading to a gig at The O2 arena? Make sure you track down our fan photographers who'll be on hand to capture all the excitement.
They'll snap you with a board showing the name of the event, before uploading the pics to Facebook for you and your fellow fans to see. Be sure to tag yourself and brag to the world about the awesome time you've had!
Create an avatar at STAR WARS Identities: The Exhibition
When you leave the Star Wars Identities exhibition, you'll not only have a head full of awesome memories, but also your own avatar to stun your mates with.
That's right, you'll be given a wristband to scan at different areas around the exhibition, where you'll be asked questions to determine your character. It'll magically come up with a unique avatar based on all your traits – and then you get the honour of naming it.
Bonus points if you manage to come up with an imaginative name. Sadly, it doesn't look like @lewispaul71 is in the running for that one...
My Avatar from the Star Wars exhibition in the O2😂😂😂😂😂 pic.twitter.com/slFLw0K6BI

— Paul Lewis (@lewispaul71) 3 December 2016
Prove you conquered Up at The O2
Completing the 52-metre-high climb Up at The O2 is no easy feat, so you'll need a memento to honour the occasion. Aside from your own amazing selfies, our photographers will also be on hand to capture the moment you finally reach the bottom. Yep, you're going to need another frame.
Trevor McDonald, who?
Ever fancied yourself as a newsreader or sports presenter? You're in luck! Sky Studios is open every day and is the perfect opportunity to see how good you are in front of the camera.
As for mementos – yes, you've guessed it, you can go away with a video of your experience. You'll receive a card with all the deets you need to access your performance online - guaranteed entertainment for all your family and friends, we're sure you'll agree.
Grab a selfie with a celeb
You might be able to blag yourself a selfie with a famous face while you're down at the tent, like this lucky lot.
What better way to make yourself the envy of all your friends than getting snap happy with one of the world's biggest stars? It'll make all your mates totally green, we promise!