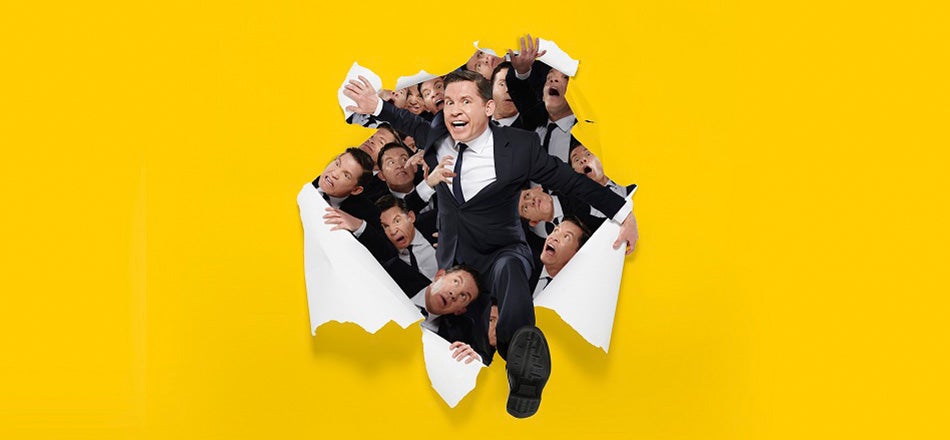 21 Aug 2014
How to break into comedy...
You've watched them on telly and thought, 'Yeah, I could do better than that.' You've even got a banker of an anecdote locked away for all those dinner parties you never go to. But could you cut it as a stand-up comedian? Where do they come from anyway? Are they constructed in the comedian factory and polished before being wheeled out on Mock The Week? Well, in a word, no. It takes a lot of time, effort and abject humiliation to become a fully-fledged hilarity peddler. So, with the help of none other than Mr Lee Evans, here's our three-step guide to breaking onto the scene. And it might not be as easy as you think…
1 Grow a thick skin
Lee Evans wasn't always playing sell-out gigs at The O2. When he started in comedy he'd grab any gig he could find and give it his all, even if there was only a man and his dog in the audience. You have to work the 'circuit' and that means playing dingy pubs and clubs with varying crowds any night of the week. You also have to remember that you're a newbie and newbies rarely command the respect of the seasoned pros. No matter how funny you are, you're going to get heckled by an idiot and people will walk out. So you'd better be ready with your witty comebacks.
2 Prepare to travel
A spot has just become available at a well-known comedy night. Great news. But guess what. It's 300 miles away. Yes, you're still going. You're going to drive yourself (trains are way more expensive) 300 miles across the country to play to a brand new and potentially hostile crowd for pittance. Oh, did I forget to mention that you won't be getting paid much? If at all? Take a tip from Lee Evans, if you're going to drive hundreds of miles to a gig, you could always sleep in your car and save on hotel bills. We don't recommend this though. It's uncomfortable. And weird.
3 Be funny
Now this is the most difficult but crucial part. There is a definite technique to stand-up which can be taught to an extent. But if the quality of the material isn't really there in the first place, there's not much to work with. Start with something simple. Try talking or telling stories about things you know well. As you do this more and more, you'll start to find your own style. Comedy's scope has expanded so much in recent years that you can do virtually anything you put your mind to. You might be satirical, musical, artistic, surrealist, or a combination of any of those. Lee Evans made it big by mastering observational and physical humour. Just remember that you're far more likely to get noticed if you do what you're comfortable with. Do what makes you laugh.
Inspiration
Watch the video below to hear Lee talking about how he broke into comedy. Everyone starts small. But you never know where your path may lead…