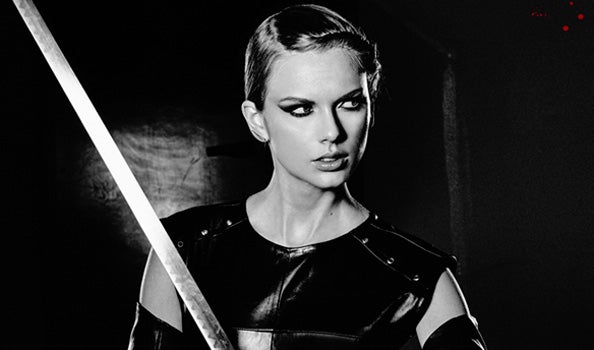 24 Apr 2017
I Bet You Think this Song is about You!
And it may be. As an artist, sometimes the only way to get over someone, get something off your chest, or just plain get your own back, is to write a song about it and let the WORLD, and your ex know exactly how you feel. We're so not bitter.
Artist: Ed Sheeran
Song: Don't
Ex: Ellie Goulding (rumoured)
Was it though? With lyrics like, 'but me and her, we make money the same way four cities, two planes, the same day', you have to think this song is at the very least about a singer. At Ed's level. Oh wait, the only singer he's been linked to is Ellie? Apparently Ed wrote this about her and Niall Horan getting together but who are we to judge!
Artist: Taylor Swift
Song: Bad Blood (shocker)
Ex: (friend) Katy Perry
Was it though? We LOVE both these ladies and hate to see any bad blood between two amazing pop divas but as the story goes, Taylor was majorly ticked off when Katy allegedly tried to poach some of her backing singers for her tour. Next thing you know, she got her all-star girl squad together, dressed them up in fierce outfits and started singing, 'BAD BLOODDDDDD' to the world. Chances of a reconciliation? Zero. (Also, can't not mention, 'We Are Never (EVER), Getting Back Together' about you know who.)
Artist: Justin Bieber
Song: What Do You Mean?
Ex: Selena Gomez
Was it though? These two took each other through the social media ringer when their on/off was still going off and it wasn't pretty. While Selena is now happily settled down with Abel, aka, The Weeknd, Justin has been playing the field with selection of babes on rotation ever since. While Biebs never confirmed the song was about Selena, her name appears in Graffiti in the video so……
Artist: John Mayer
Song: Your Body Is a Wonderland
Ex: Taylor's back again
Was it though? It's not just Taylor who gets to write about exes, Mayer the Player loves to make it totally clear to his fans what's been going on in his love life, and you'd think with a title like this Taylor would be over the moon? No not really, although they sang it together when they were dating, post break-up when Taylor was a judge on The Voice (USA), a contestant sang it to her, and as her fans would say she – 'DIED'.
Artist: Justin Timberlake
Song: Cry Me a River
Ex: It's Britney Bitch.
Was it though? YEAH. IT WAS. No doubt about it. Rumour has it Britney cheated on JT and this song was the outcome. What really seals the deal is the fact that the actress in the video is Britney's double. Note the Killer Line, 'You don't have to say what you did, I already know, I found out from him'. (ouch) First love hurts kids.