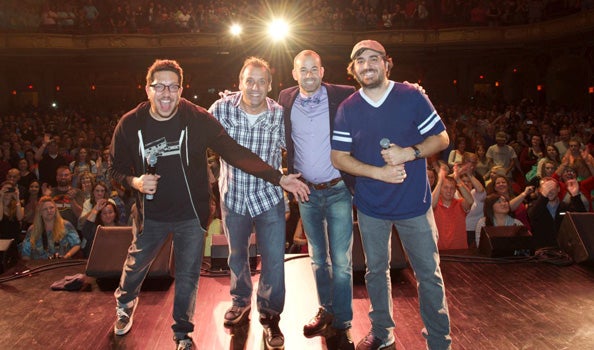 24 Oct 2016
7 Times The Impractical Jokers OWNED IT [4 mins]
Ever felt embarrassed, shocked and hilariously amused all at the same time? No? Well, perhaps it's time to tune in to Joe, Murr, Q and Sal - better known as Comedy Central's Impractical Jokers. Their prank-based hidden camera series will have you laughing and cringing in equal measures!
The comedy gang will bring their unique humour to The O2 next year, so let's revisit some of their funniest gags to-date.
1. Aisle be damned!
Some of the Jokers' best moments come when they're forced to perform random tasks on unsuspecting supermarket shoppers. Our absolute fave is when Q has to put whipped cream on a man's shopping cart when he isn't looking - but it wouldn't be the Impractical Jokers if the gag stopped there!
2. What's the scoop?
Not sure we'd want a serving of Joe's potatoes… The Jokers have to plonk as many scoops of mashed potato onto diners' plates as possible before being asked to stop. Sounds straightforward, but this particular prank is remembered less for its difficulty and more for Joe's delivery method. Scoopski potatoes, anyone?
3. Support act fail
Every episode, the Jokers with the fewest completed challenges must complete a truly humiliating punishment. Joe and Sal draw the short straws on this occasion when they have to open a show for American rockers Imagine Dragons - despite the inability to sing or play an instrument. Check out the crowd's reaction!
4. Shhh!
Quiet library? Check. Swotting students? Check. Q and Joe battling it out to see who can draw the most shushes by being as noisy as possible? Most definitely check! It doesn't take long for one library-goer to take matters into her own hands though…
5. Worst career day ever
Impractical Jokers is in its fifth season, and this prank proves the show is still going strong. Murr is the unlucky Joker receiving the punishment, meaning he has to chat to children at a career day about his make-believe job… as a pet cremation and grandparent divorce lawyer! We won't spoil it, but some of the kids' faces are priceless.
6. Bigger in Texas
The Jokers visit the Lone Star State where they perform various cowboy-themed escapades, including teaching lassoing at a ranch and following embarrassing instructions in a western-style shop. The whole episode is full of gut-busting laughs, so we struggled to pick just one prank! And @xemilywalker seems to agree…
The cowboy episode of impractical jokers is by far the funniest one I've seen😭

— emily (@xemilywalker) 16 September 2015
7. Sorry, but not sorry!
Poor Sal. For this punishment, he must run a gauntlet of cringeworthy tasks without apologising to his bemused victims. The challenge starts off relatively tame with stepping on someone's foot and woofing at a baby, but things go downhill when he's forced to blow an air horn in a woman's face and sneeze on someone. It ends with him swearing at an old lady. Don't try this at home, kids.