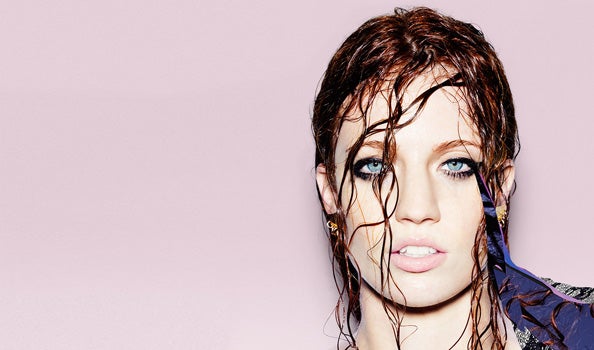 3 Oct 2016
The 5 GREATEST Jess Glynne Collaborations
She's the fiery-haired Londoner with more hit singles than you can shake a microphone at. As we prepare to welcome Jess Glynne to the tent, here's a look at some of her most epic team ups with other artists to really get you in the mood.
1. Clean Bandit
You must have been living under a rock if you didn't hear Rather Be at least a million times when it was released in 2014 – it's the one with the catchy string intro. Unsurprisingly, it shot to the top of the UK Singles Chart and stayed in the top 100 for a whopping 90 weeks.
It must have been a musical match made in heaven as Jess joined forces with the electro pop group once again on Real Love. If it ain't broke, don't fix it, we say!
2. Tinie Tempah
He might not win an award for spelling any time soon, but Tinie sure knows how to make waves when it comes to awesome collaborations. Jess Glynne featured on his track Not Letting Go in 2015, when Tinie became the rap artist with the most UK number one singles… ever. Nothing tiny about that!
3. Emeli Sandé
If you're one of the 800 thousand people who bought a copy of Jess's debut album I Cry When I Laugh, you must have heard Saddest Vanilla, her duet with Emeli Sandé. No, it's not a song about crap ice cream (although it does mention sitting in an ice cream parlour).
The pair wrote the heartfelt ballad after going out for a bite to eat. Let's hope they take more lunch breaks together, hey @sophialilyxo?
Can @JessGlynne & @emelisande do another song together please?

— sophia (@sophialilyxo) 17 September 2016
4. Naughty Boy
Anybody who's anybody has collaborated with Naughty Boy – and that includes Jess Glynne. He produced her track with Emeli Sandé and the word on the street is another collab could be on the cards. We can't wait! Please let it be true!
5. Route 94
We're not too sure if - or indeed why - Rowan Tyler Jones decided to name himself after a London bus route, but hey, who are we to question his motives?
It proved no turn-off for our fave pop diva, as the pair joined forces on My Love in 2014. It was Route 94's debut single – and the track responsible for dethroning Pharrell Williams' Happy from the number one spot. Bet they were both Happy about that.