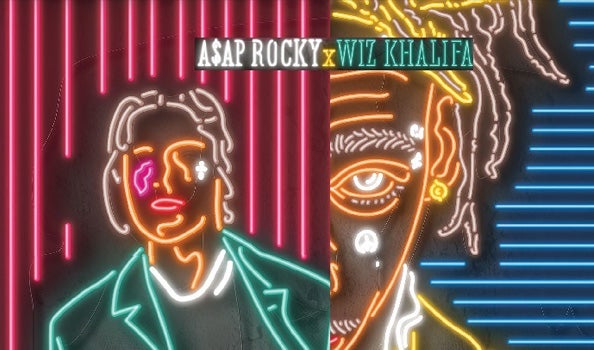 21 Sep 2015
Just The Two Of Us: The 5 Greatest Rap Collaborations
We love bass-booming rap collaborations here at The O2 – we just can't help ourselves. And that's why we've been giddy with excitement ever since A$AP Rocky and Wiz Khalifa announced their UK tour – as excited as @laurenfield1996, who certainly shares our enthusiasm, tweeting: 'Omg i must go and see Wiz Khalifa and ASAP Rocky!!!'
Omg i must go and see Wiz Khalifa and ASAP Rocky!!!

— Lauren Field (@laurenfield1996) July 3, 2015
Seeing as, like Lauren, we've been counting the days until A$AP Rocky and Wiz Khalifa roll through our doors next month, we thought we'd speed up time slightly by compiling our certified list of the greatest rap collaborations EVER. Hold on to your hats, ladies and gentlemen, we're about to crank the bass loud up in here.
Dr Dre & Snoop Dogg: Nuthin' But A G Thang

Where else could we possibly start? As far as legendary rap collaborations go, this one goes down among the greatest, and will be remembered for shaping modern hip hop as we know it today. Featured on Dr Dre's debut solo album, The Chronic, the two rap heavyweights tag in and out of verses, making classic Long Beach and Compton references throughout. Any song that makes it into the Rock And Roll Hall Of Fame clearly packs a punch, and this musical slice of history – ranked number 419 in the 'songs that shaped rock and roll' – is no exception.

Redman & Method Man: Blackout!
After numerous collaborations that had clubs across the world shaking till the early hours, rap superstars Redman and Method Man hit the studio to record the 1999 classic, Blackout!; the duo's debut full-length album. The record entered the Billboard Charts at Number Three and has sold over 1.5 million copies; spawning the rap anthems Y.O.U, Da Rockwilder and Tear It Off, as well as featuring the song How High – which, for all you hip hop fanatics, instigated the Hollywood film, How High, starring both rappers in lead roles. Luckily, these guys are just as comfortable on camera as they are in the vocal booth!
Warren G & Nate Dogg: Regulate
This massive tune became many people's soundtrack to the summer of '94 – hatched by hip hop icons Warren G and Nate Dogg. For those of you who love bit of hip hop history, Regulate is widely claimed to be the breakthrough single for both artists, who went on storm the rap world. Good work, gents.
Tupac & Notorious B.I.G.: Runnin' (dying to live)
These two giants of rap came together in the mid-'90s to record Runnin'– a track containing deep significance due to the bitter hostility that later developed between the two artists; firmly closing all doors on any future collaborations. The East-West Coast rivalry that ensued will go down as one of the most bitter gang-related feuds of our time, with Tupac and Biggie at the forefront of the media coverage. For many, though, these two are considered amongst the greatest rappers to grace a mic, and we're just grateful that Runnin' From Tha Police happened – a rare glimmer of beauty within a very sad and unfortunate story.
Dr Dre & Eminem: Forgot About Dre
You didn't think we were going to forget about Forgot About Dre, did you? Not a chance. The Grammy Award-winning single signified the Doc's return to the charts – with two beautifully crafted and compelling verses outlining his importance and influence on the hip hop scene (we still can't believe people were dissing). And who better to back him up than his protégée: the genre defying, Eminem. The two rappers might look a bizarre match on the surface, but these two will be going down in the history books for this one. It sold a few copies, too – and did we mention it won a Grammy? Oh wait, we did.