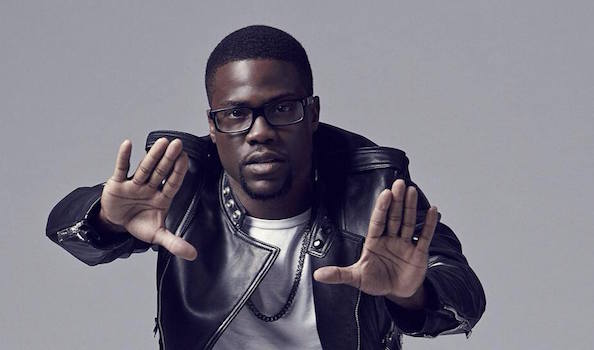 15 Dec 2015
Kevin Hart: The Moments That Made Us Love Him
Kevin Hart is hilarious from the moment you first hear him – his elaborate voice, his expressive face, and his often controversial routines have garnered him a huge and loyal fanbase. As @DeclanPearce97 says, everyone 'Would love a mate like Kevin hart' – someone who is undeniably fun and a bit cheeky! Here are some of our favourite Kev moments over the years…
Would love a mate like Kevin hart

— declan pearce (@DeclanPearce97) January 2, 2015
His dance moves in The Wedding Ringer
There are plenty of amazing scenes in this heartwarming film, but our personal favourite has to be the moment when Doug and Jimmy hit the dancefloor to test out some moves. It starts off pretty civilised, but when you see Kevin Hart grinding, as a very elderly white man sings Teach Me How To Dougie, you can't help but LOL.
When he can't say 'FREEZE' in Ride Along
Who knew an upper lip could be so hilarious? For some reason Hart gets pretty self-analytical, deconstructing how he shouts 'FREEZE!' compared to Ice Cube at the shooting range. It's all in the timing...
When he starts a fight in The 40-Year-Old Virgin
Steve Carell plays the perfectly awkward floor manager as he looks on at one of his employees, Jay, slowly getting pulled down into thuggish behaviour, thanks to being 'intimidated' by Kevin Hart. Our favourite line has to follow Jay accusing him of being 'condescending' and asking him to move along 'amicably': "Now, you're throwing too many big words at me. Because I don't understand them, I'm gonna take them as disrespect. So you better watch your mouth." Heehee!
When he plays slapjack with Jimmy Fallon
It's rare that you get to see what Kevin is like in real life, such is his caricature-like acting, but this deeply funny skit from the world's favourite chat show host does portray a little of the real Kev. The unruly pair play a game of blackjack, but the twist is that they have two giant prosthetic hands – and the loser of each round gets a whack around the head! Get ready for lots of very weird noises, giggling and false confidence…
Literally all of his stand-up ever
It's naughty, shocking and so funny it can actually make you cry with laughter. His stand-up routines are all golden – although one of our favourite moments is when he demystifies the 'thug' and truly undermines their aggression in the funniest way! (Although, we will warn you that clip contains some pretty filthy language!)
We can't wait for the antics of his What Now? tour coming to The O2 next year. And although @schmaaaate says, 'I absolutely love Kevin Hart's stand up, too much banter.'
I absolutely love Kevin Hart's stand up, too much banter

— Sarah Guthrie (@schmaaaate) February 25, 2015
To you, Sarah, we say, is there ever such a thing as too much banter?