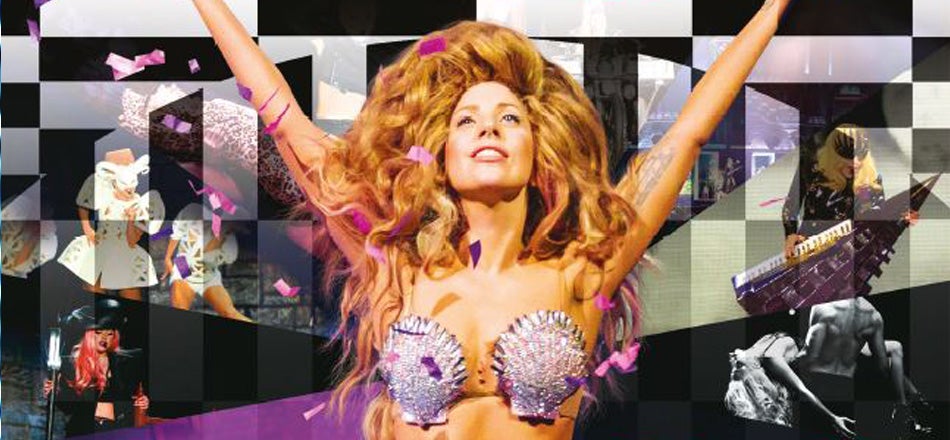 12 Sep 2014
Gaga's top five outfits
Pop's most famous fashion icon is dropping in next month with her artRave: The ARTPOP Ball tour. To celebrate, we're taking a look at some of Lady Gaga's most memorable outfits and wondering if we could successfully copy her style. Doubt it...
1. Shreddie Head
When Lady Gaga arrived in Berlin to launch her new album, Artpop, no one was expecting this. A mustard dress teamed with a brown fur bolero? What was she thinking? Just kidding. Of course, our Lady is no stranger to covering her face, but we reckon this little number looks rather like a giant version of a well-known cereal brand. Gaga is definitely the only person on the planet who could pull this off.
2. Square Nun
Nuns. They've been trapped in bad habits. Geddit? Why follow the crowd with a flowing headdress when you can just as easily complete the God-fearing look with a square one? We can't help but feel that the pious among us have been a tad neglected when it comes to fashion's cutting edge, but this get up is one huge leap in an avant garde direction. Someone call the Vatican now. And Julie Andrews.
3. Dog and Bone
Hello? Operator. Yes, I'd like to place a reverse charge call to my milliner, please. This hat became infamous after appearing atop Lady Gaga's noggin on the Jonathan Ross Show. In fact, it's so notorious that it was immortalised on the Madam Tussaud's waxwork that you see above. The burning questions is: does it work? Unfortunately, reports suggest that Gaga failed to pay her line rental and has since been cut off.
4. Meat Dress
Who can forget this? In 2010, Lady G turned up at the MTV Video Music Awards wearing a dress made of raw beef, as you do. She explained this controversial statement to Ellen DeGeneres: 'If we don't stand up for what we believe in and if we don't fight for our rights, pretty soon we're going to have as much rights as the meat on our bones.' Well, it certainly turns heads, but that's gonna be one hell of a conversation at the dry cleaners.
5. Octo-Gaga
Giving a whole new meaning to 'Mother Monster', here she is opening the artRave: The ARTPOP Ball tour which lands here in October. While the rest of us are making do with leopard print and crocodile shoes, Gaga has gone full on sea creature reminding us of The Little Mermaid's Ursula (with way more colour and catchy tunes). We can't wait to see what other gems she has in store for us.