Home
LEGENDARY Strictly Come Dancing Moments [4 mins]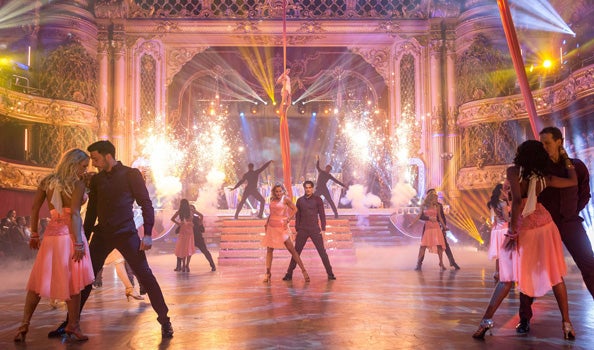 25 Oct 2016
LEGENDARY Strictly Come Dancing Moments [4 mins]
Strictly is back on our screens and we couldn't be happier - especially as we'll be hosting the live tour next February.
It's got us reminiscing about our favourite moments from the past 14 series. From the sublime to the ridiculous, here are our top picks.
Scott Mills gets crabby
Strictly has had its fair share of crazy costumes, and one of our faves was this little number worn by Radio 1 DJ Scott Mills. We couldn't tell you how good his samba was – our eyes were well and truly on that outfit.
Russell reaches for the stars
Strictly's producers obviously decided it would be hilarious to propel Russell Grant out of a cannon at the start of this routine. And boy, were they right.
Craig cracks a smile
Craig Revel Horwood doing a fist pump is about as rare as, well, Craig Revel Horwood doing a fist pump. Something must have pleased him in this particular episode – we'll take more of that, please Craig!
Ann Widdecombe shows the nation her true grit
This entry needs no introduction. As soon as we heard that Ann Widdecombe would be donning her dancing shoes for the 2010 show, we knew we were in for a real treat. Not only were her routines comedy gold, her altercations with the judges were equally hilarious!
Innuendos. Lots of innuendos
If you thought the Great British Bake Off was bad for innuendos, it was merely following the footsteps of Strictly. Here's one of the best from head judge Len Goodman.
The joys of live TV
OK, so we can't believe this was TEN years ago, but Mark Ramprakash's salsa is still forged on our Strictly memory. As is the moment he had to stop dancing to deal with a faulty mic. It didn't stop the sports star and his dance partner Karen Hardy salsa-ing their way to near top marks though. We also like the bit where Brucie has a dance with the sound woman.
Defending Judy Murray
Every series of Strictly has one contestant who stands out for all the wrong reasons – and series 12's was Judy Murray. Her sons might be tennis superstars, but it seemed her dancing prowess left a lot to be desired. Here's her professional partner Anton Du Beke defending her *ahem* style.
John Sergeant takes one for the team
Another Strictly contestant who fell into this category was former political journalist John Sergeant. He was such a hit with the voting public – and a flop with the judges – he eventually decided to quit the show. There was such as furore it even made national news!
How to smash the freestyle
Contestants get one opportunity to tear up the rule book when the freestyle comes around. And here's series six winners Tom Chambers and Camilla Dallerup showing us exactly how to do it. 10!