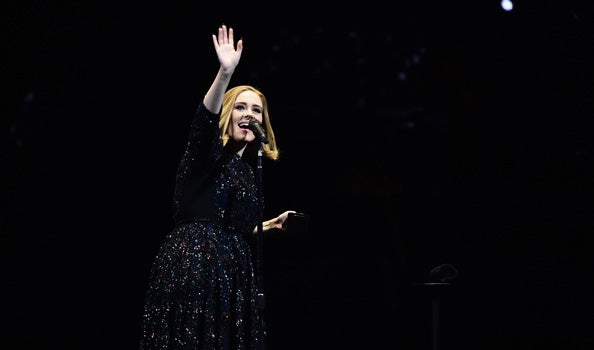 24 Apr 2017
Love in The Tent
Marriage proposals? We've had a few. Moments to induce giving birth? Tick. The Tent has hosted many life-changing events, both on and off stage it seems and why would we stand in the way of true love? Here are some of The Tent's most romantic moments so far.
Ed Sheeran: (aka) The Master of Love
This may be a record for the most proposals in one gig. No less than five, that's five, couples choose Ed Sheeran's 2014 x (aka multiply) Tour to let their love be known to their partners and the rest of The Tent, – go hard or go home. Luckily everyone asked said yes and Ed went on the invite himself and the entire audience to each wedding. Spend per head anyone?
Lauren Dougherty was one of the 'chosen few' and shared her joy on Twitter. We hope you guys are still going strong!
@edsheeran we were one of the proposals! And yes, we'll name our first child/kitten Ed! #proposal #tears #givemelove pic.twitter.com/oeBt9wbubZ

— Lauren Dougherty (@Ljaydee22) 13 October 2014
Adele
When the queen of love ballads, Adele, saw camera phone lights flashing and arms in the air during her gig with us last year, she thought that a fight was kicking off!
Midway through singing, Make You Feel My Love, she realised what had happened and invited the newly engaged couple up on stage. Adele was totes emosh and told them their proposal was 'the most beautiful thing' she had ever seen at one of her own shows.
Watch the amazing moment now! (Have tissues ready)
Enrique Iglesias:
Even though it looked like Maria wanted to marry Enrique more than her beau, she said yes. If you can hear her through the screams that is. Enrique clearly loved this moment as much as the happy couple and gave them stage while he watched the proposal take place. What a gent.
Beyoncé
Beyoncé famously said, 'Put a ring on it', and super fan Jazz Hallett made sure he did just that. The brave Jazz got down on one knee while during the Mrs. Carter Tour as Queen Bee sang, Love On Top in front in thousands of fans. His girlfriend Natasha Jones had no idea what was in store for her. Natasha was pretty happy too, 'I'm absolutely crazy about Beyoncé so for me it was the perfect proposal.' Let's hope Jazz keeps up that level of expectation throughout the marriage hey? (No pressure.)
Michael McIntyre
'I laughed so hard my waters broke!' is exactly what every comedian wants to hear right?! Well that's what happened when Cara Brown came to see Michael perform back in 2015. Cara laughed so much, her baby girl came 6 weeks early! We've all heard about the healing power of laugher – but the power to bring life? Amazing. Cara named her daughter, Louie and said, 'She's our miracle baby. And she must share my sense of humour - he's my favourite comedian ever.'