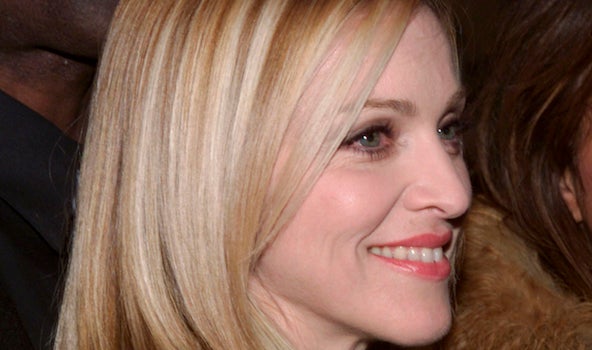 17 Nov 2015
Madonna Over The Years
How one woman reinvented reinvention
With a career now spanning over three decades, Madonna is still the most successful female artist in the world. Despite a constant stream of new pop stars coming and going, rarely will an artist achieve the same level of consistency and longevity, with many falling off the wagon before they even get close.
How is it, then, that Madonna – at 57 – has managed to hold on to her crown for so long, within an industry that is so quick to move on? One word: reinvention – a word that Madonna knows well. As @blackkbonne puts it: 'Most artists need to reinvent themselves constantly Madonna being the best at that.'
Most artists need to reinvent themselves constantly Madonna being the best at that

— © (@blackkbonne) March 20, 2015
Each new chapter in the singer's career is different to the one before. No two albums sound the same. And no outfit is worn more than once (although she has stylistically nodded towards that Jean Paul Gaultier corset a couple of times).
Not only that, but she's dipped her toes into various business ventures, reinventing herself as an author, a Golden Globe-winning actress, an activist, a record producer and, of course, a proud mother. She is so much more than just your average pop star.
Over the years she has become an icon and an inspiration for others following in her path, and other artists aren't afraid to admit their admiration for her. Taylor Swift openly gushes over Madonna's work, saying: 'One element of Madonna's career that really takes centre stage is how many times she's reinvented herself. It's easier to stay in one look, one comfort zone, one musical style. It's inspiring to see someone whose only predictable quality is being unpredictable.'
Let's start at the beginning. In the mid-'80s, Madonna bounced onto the scene, delivering sweet-as-candy-pop hits with a naughty core. Her hair was blonde and curly and her attitude was rebellious and uncontrollable.
Fast-forward ten years and she had transformed into a sophisticated brunette, oozing sex appeal with her new 'vampy' look. From then on, with each new album came a brand new Madonna.
Over the decades she has experimented with a bohemian style, a dark gothic look and, more recently, a powerful and glamorous blonde bombshell. For 30 years she's left people wondering what comes next, and she's still the champion of this mysterious 'keep 'em guessing' strategy of fame that's been taken up by the likes of Lady Gaga and Beyoncé since.
And it's not just her style that gets people talking. She has consistently caused controversy with her music, too. She wasn't afraid to push the boundaries, whether that was through her themes, her lyrics or the issues she raised within her music videos. She knew how to turn controversy into publicity, and how to use it to her advantage as an artist. She called the shots from the beginning of her career and has always been very clever with how her image is channeled in the media. It's these things that have enabled her to retain her iconic image for so long.
An excellent example of this is when Madonna decided to turn her hand to writing and photography, publishing a book entitled Sex in 1992. At the time, the publication caused absolute uproar, with critics and fans alike claiming the singer had stepped over the line of what was deemed acceptable in modern culture. The book included nude photographs of the singer, alongside imagery of soft porn, models and feminists of the era. Despite the controversy, it swiftly topped the New York Times Bestsellers list upon its release and is still, to this day, the biggest selling coffee table book of all time. What is also interesting about the book is that it was released just one day after Madonna's fifth full-length album, Erotica. Meaning that, for one reason or another, Madonna was the most talked about artist at that moment. A strategic move on her part? Who knows, but we wouldn't put it past the savvy songstress.
When it came to her music, she constantly reinvented her sound to ensure that it was relevant to whatever genre was popular at the time. She started out as an '80s pop princess but, over the years, she has dabbled in dance, urban, EDM and incorporated elements of soul and funk into her sound – every time it's worked perfectly. Even in 2015, when many thought Madonna was perhaps past her sell by date, she turned it around and transformed herself once again. @_NowLiz_ agrees, tweeting: 'no artist can reinvent themselves like Madonna, Rebel heart is so current and I'm actually in love.'
no artist can reinvent themselves like Madonna, Rebel heart is so current and I'm actually in love

— Liz (@_NowLiz_) January 5, 2015
Love her or hate her, Madonna has been one step ahead of her career since she first arrived and that's the way she'll keep things until she decides to call it a day – and we're truly excited to see how she'll be approaching her upcoming show at The O2.
She took reinvention and reinvented it, giving the idea a whole new meaning and taking it to extreme new levels. Naturally, nobody can put it better than the woman herself, so we'll revert to her 2014 single as a slick summary: Bitch, I'm Madonna.