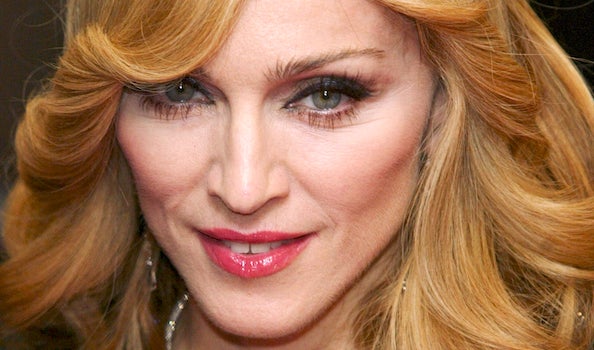 18 Nov 2015
Madonna: The Top 8 'looks' Of Her Career
With a career spanning over three decades, the undisputed Queen Of Pop has worn some incredible outfits throughout the years. We feel that @itsandyhermann puts it well when she says, 'Iove the fashion and style in Madonna's new video.' Yep, we're very excited to see whether the rumours of Japanese warrior costumes and 1920s flapper ensembles are true for the London leg of her upcoming Rebel Heart tour, stopping off at The O2 (the clue is in the name). But in the meantime, here are a few of her best looks…
@itsandyhermann love the fashion and style in Madonna's new video

— Andy Hermann (@itsandyhermann) June 20, 2015
1990 – The Blond Ambition Tour
The moment that an outfit defined one woman's career: when the mother of all corsets made its appearance. That's right, we're talking about the iconic Jean Paul Gaultier number with those pointy cone...bits. You know exactly what we're talking about – that image is culturally burned into everyone's retinas, and it cleverly reinstated the bad girl edge Madonna was striving for.
1989 - Like a Prayer
Madonna switched up her hair and added a whole lot of controversy to her career with the video for hit single, Like A Prayer. Ditching her trademark blonde locks for a dark brown perm, and sporting a lacy negligee-esque dress that kept suggestively slipping off her shoulder – this was arguably the start of her more erotic image. Despite being pretty raunchy, the video also raised issues such as race and violence and saw Madonna become a spokesperson for many of the world's issues.
1990 - Vogue
Strike the pose! We all know the moves that came with the song, but some may forget the classic choice of outfit Madonna went with for Vogue. Matching her Marilyn Monroe red lips and blonde curls with a feminine black tuxedo, this was only the beginning of the more androgynous side of Madonna's fashion story, and don't get us started on that diamond-embellished lace top…
2015 – Living For Love x BRIT Awards
There aren't many people that could make a matador outfit work, but lavish it in red sequins and black lace and you're onto a winner. @kroywen79 certainly adored it, tweeting, 'We're Living for Madonna's Makeup in Her New Music Video - matador look straight off runway' soon after the unveiling. She took the outfit up a level for the live performance by including the extravagant red silk-lined cape.
We're Living for Madonna's Makeup in Her New Music Video - matador look straight off runway. http://t.co/HQxA2sCgNK

— kroywen79 (@kroywen79) February 7, 2015
2005 – Hung Up
Never will we look at a pink leotard in the same light. Fair play to Madonna who, at 47, managed to pull off the spandex-leotard-and-glitter-heels combo better than anyone imagined for her famous Hung Up music video. The purple glitter belt made it, though. (Anyone else spotting a certain glitter theme cropping up in many of her outfit choices?)
1984 - Like a Virgin
The days of the blonde perm and the edgy 'virgin' look. The video saw Madonna parading around in a white 'wedding' dress with, surprise surprise, a balconette bra-style bodice, a rowdy 'boy toy' belt, dark, smoky makeup and a rebellious attitude to match. This video revealed her promiscuous side and, as you can imagine, not everyone was happy about it.
2014 - Bitch, I'm Madonna
Proving that at 56, you can still rock neon pink hair dye, a leopard print bodycon dress and an incredible fuchsia studded leather jacket to match. Bitch, I'm Madonna fully announced the singer back onto the pop scene and showed that she hadn't lost her touch.
1985 – Material Girl
The definition of blonde bombshell. Madonna upped the glamour for the Material Girl video, flaunting a Barbie doll-pink silk full-length gown, full sleeve gloves and an opulent diamond necklace, honouring her style spirit Marilyn Monroe's iconic scene in Gentlemen Prefer Blondes. Along with her trademark blonde curls and beauty spot, this outfit was her sassiest yet.