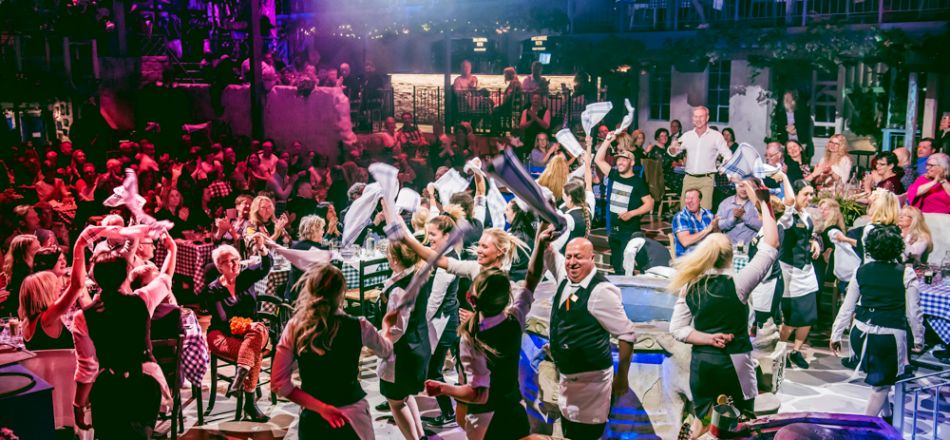 30 Aug 2018
MAMMA MIA! THE PARTY is heading to The O2
Executive producer Björn Ulvaeus and producer Ingrid Sutej are delighted to announce that MAMMA MIA! THE PARTY, is heading to The O2!
An immersive theatrical and dining experience which launched in Stockholm, will take up residency in The O2 from Spring 2019. Tickets will be on-sale this Autumn.
When Björn Ulvaeus watched people at the musical MAMMA MIA! having such a good time, getting into party mood by the end of the show, he thought to himself, "What if this could continue somewhere else?" The obvious place would be in a taverna on the island of Skopelos, where most exteriors of the first MAMMA MIA! film were shot. This imagined and wonderfully exotic Greek taverna – and its equally exotic landlord Nikos, his family and friends – became the home of MAMMA MIA! THE PARTY, which first opened in Stockholm in January 2016 where it is now in its third sold-out year.
Guests will feel as if they're right in the heart of a Greek island paradise, sitting around tables in the taverna's courtyard complete with a fountain, amongst olive trees and bougainvillea. While the story of Nikos and his family plays guests will be able to eat great Mediterranean food, drink, and even have the opportunity to dance along to ABBA songs.
To register for priority access to tickets for London, click here.