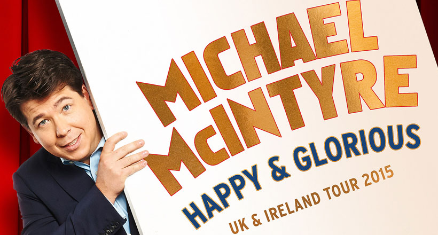 13 June 2014
Michael McIntyre
tickets
He's back. This week, Michael McIntyre tickets went on sale for his brand new tour and we've also got Jack White and Enrique Iglesias heading to the tent. If you're into the Eagles, you'll have to move quickly to get your mitts on the last few tickets for their shows later this month. And who would pass up the chance to see them play Hotel California along with the rest of their hits live? Read on for more info.
Michael McIntyre - 1 to 3 and 8 to 10 October 2015
Michael McIntyre returns to the tent next year with his biggest ever show, Happy & Glorious. His last tour, Showtime, was the biggest-selling comedy tour in the world with a record-breaking ten-night run at The O2. Michael has also released three best-selling DVDs: Live and Laughing was the biggest-selling UK debut stand-up DVD of 2008, Hello Wembley became the fastest-selling UK stand-up DVD of all time and Showtime beat its competitors to the Christmas No. 1 spot.
Book Michael McIntyre tickets.
Eagles – 20 to 21 June 2014
The Eagles will perform classic hits spanning their career, as well as songs that have never been performed live when they bring their latest tour to The O2 this month. The Eagles have sold more than 120 million albums worldwide, earning five No. 1 US singles and six Grammy Awards. They were inducted into the Rock & Roll Hall of Fame in 1998 and their Greatest Hits 1971-1975 is one of the best-selling albums of all time.
Jack White – 19 November 2014
Jack White is set to perform his biggest UK solo show under the tent later this year. The tour supports his new album, Lazaretto, which was released this week, receiving widespread critical acclaim. As a solo artist, Jack has collaborated with Beck, the Rolling Stones, Jeff Beck, Alicia Keys, Bob Dylan, Wanda Jackson, Electric Six, and Loretta Lynn, while Rolling Stone named him in their list of The 100 Greatest Guitarists.
Enrique Iglesias – 28 November 2014
Following the release of his tenth album, SEX AND LOVE, Grammy-Award winner, Enrique Iglesias, is heading back to The O2. This will be his first UK arena tour in over three years and he'll be joined by multi-platinum selling artist, Demi Lovato. In the UK, Enrique has had over 12 Top 20 singles and six Top 10 singles, including: Bailamos, Could I Have This Kiss Forever, Escape, Hero and the quadruple-platinum hit, I Like It. His latest record sees him joining forces with Marco Antonio Solis, Kylie Minogue and Pitbull.