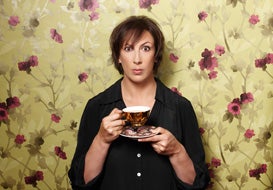 As one of the UK's favourite female comics, Miranda Hart is at the top of her game.
From her hit TV show to her live performances, the endearing way she makes fun of herself has won her countless fans nationwide.
The actress, comedian, writer, and three-time winner of the British Comedy award for Best Comedy Actress is best known for her role in the self-written sitcom, Miranda. So where did it all start? After graduating from the Academy of Live and Recorded Arts she went on to appear in lots of well-known comedy programmes, including: Not Going Out, Absolutely Fabulous, Lead Balloon and Smack the Pony. Riding the wave of her rising popularity, she staged a one-woman show at The Edinburgh Fringe where her solo act began to take shape.
Making it big
Miranda said,'No one else was going to cast me as a lead in a sitcom I knew I'd have to write it!' And so she did. Her sitcom, Miranda first aired in 2009and was one of the highest rated comedy shows of the year with an average of over nine million viewers. The show was based on her series, Miranda Hart's Joke Shop, which aired on BBC Radio 2. Miranda was a hit and went on to win Best New Comedy at the Comedy Awards, four BAFTA nominations, three Royal Television Society awards and four British Comedy awards in just three series.
Not to be a one-trick pony, Miranda has also played many roles including her part as Camilla 'Chummy' in BBC One drama, Call the Midwife. She also played Linda (Ben's mother) in David Walliams' TV adaptation of his book, Gangsta Granny.
In 2012 the 'Queen of Comedy' performed at the Diamond Jubilee along with Jimmy Carr, Lee Mack and Rob Brydon. And nowMiranda is appearing on her first stand-up tour in 2014, called My, What I Call, Live Show which is due to hit the stage in March. Book your Miranda Hart tickets now for your chance to laugh along with the UK's most popular female comic.