3

Apr

2014
Monty Python Live (mostly) – Dead Parrots and Silly Walks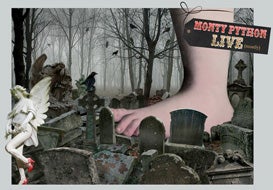 From the controversial (and brilliant) Life of Brian, to the ridiculous Meaning of life, Monty python is perhaps the country's most famous comedy export. Everyone has their favourite Python moments. Who can forget the Ministry of Silly Walks or the Dead Parrot sketch?
The remaining Pythons are returning to the stage this summer. Bringing their trademark mixture of surrealism and silliness, it seems that their brand of humour is still as popular as ever.
The Flying Circus
The group began their journey to fame in 1969 with Monty Python's Flying Circus. The six members wrote and performed the show with complete creative control. It was an instant hit and a total of 45 episodes were made before the Python craze grew into stage shows, books, musicals and albums. What the Beatles were to music, Monty Python were to comedy.
'He's not the Messiah; he's a very naughty Boy!'
Monty Python and The Holy Grail was produced in 1974. The movie was a massive success and two more feature-length films were released to similar critical and audience acclaim.
Over the next few years, the group were busy branching out. Cleese created Basil Fawlty and went on to star in several Hollywood Productions, while Eric Idle, Terry Gilliam, Terry Jones and Michael Palin all continued to enjoy success with their own film and television projects.
To the stage!
The remaining Pythons are reuniting for the first time in 30 years. Featuring classic sketches with modern and topical twists, there's something for every fan to enjoy. Don't miss your chance to see them live. Snap up the last remaining Monty Python tickets before it's too late. Nudge, nudge. Wink, wink. Say no more.