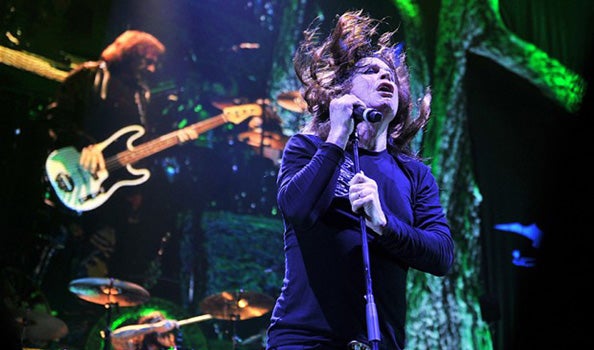 22 July 2016
Music Legends At The O2 You Miss At YOUR PERIL!
Music legend might be an overused phrase, seemingly applied to anyone who's had a couple of hits and got a few followers on Facebook.
But when WE say legend, you can bet your last Elvis Presley record we mean it! We're talking megastars with the gold discs, screaming fans and years at the top to prove it. And we've got a whole bunch of them coming to The O2, so here's four you simply cannot afford to miss.
1. Rod Stewart
With Sir Rod the Mod, it's as well to let the numbers do the talking. With 50 years on the music scene, he's sold more than 100 million records, had 26 top 10 hits in the UK and seen eight albums top the charts. Little wonder, then, that he's still winning new fans, including @KerrinClair. Get yourself down to the tent, Kerrin: he plays three dates here in November.
New found love for Rod Stewart. He had some right gems tbh...

— KERRIN (@KerrinClaire) June 22, 2016
2. Elvis Presley
His nickname says it all: The King Of Rock 'N' Roll. Elvis was so good and so huge even The Beatles are said to have called him Sir. His musical prowess was such that, at just 36, he was given a Grammy Lifetime Achievement Award. Although he passed away in 1977, he remains an icon, and the live experience Elvis In Concert – coming to The O2 on 23 November 2016 – is sure to have fans All Shook Up.
3. Van Morrison
During half a century in showbiz, Van the Man has gone through genres like most of us go through socks – with a back catalogue including rock and roll, R & B, jazz, gospel and Celtic. But, whatever the style, he's always had a knack for making them well and truly AWESOME. He'll be playing some of his hits at BluesFest at The O2 arena in October, and, if you're in any doubt about how amazing it will be, just ask @bholcom who came last year!
4. Black Sabbath
Ozzy Osbourne's heavy metal pioneers are often most noted for their occult themes, horror-infused imagery and alcohol excesses. But you don't get to sell 70 million records worldwide without also having serious musical chops, and songs like Paranoid prove they have tunes by the, er, devil load. They play The O2, as part of their final world tour, in January 2017.