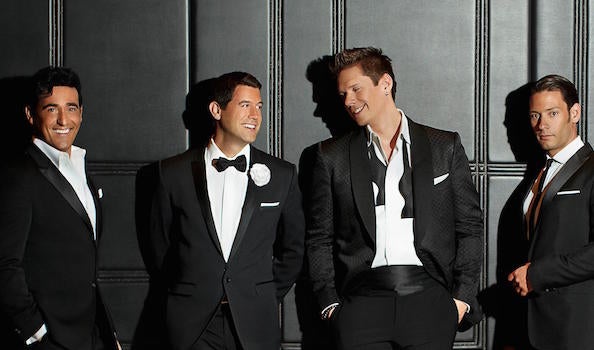 7 Apr 2016
Music's Greatest Genre-Defying Artists
We've always imagined that, when starting a band, it's pretty difficult to have the "what genre should we be?" conversation. Most musicians create their style as a kind of happy accident – and their collective inspirations and interests merge together to form a genre of sorts. Rock, pop, heavy metal – whatever you listen to, you end up playing. Them's the rules.
But then, of course, you get some pesky creative types who produce a sound that becomes a total game-changer.
We love these people – they're the reason music is always progressing and moving forward. Why not add a little hip hop to your electro-synth? Who's to say that an electric guitar can't enhance a folk song? (Certainly not Bob Dylan.)
Here are our pick of the best genre-defying artists of modern times…
Il Divo
'Just heard Il Divo's cover of "Can't Help Falling In Love". So beautiful,' tweets @Sofi_DCM. And there we have a prime example. Simon Cowell's brainchild of "classical crossover" has been a resounding success – because who doesn't want to hear four pitch-perfect men singing nostalgic rock songs in blissful harmony? The foursome originated in the UK, but their multinational heritage and universal appeal has propelled them into international stardom. Look through their back catalogue and you'll be amazed to see blues, opera, traditional folk, Latin and church music alongside classic love song covers, such as Elvis Presley. Plus, we've heard that when they perform at The O2 later this year, they'll be doing a full rendition of Kanye West's new album. Okay, that's not true, but they could totally pull it off.
Just heard Il Divo's cover of "Can't Help Falling In Love". So beautiful. pic.twitter.com/cXyawvSmUY

— Sofi (@Sofi_DCM) March 8, 2016
Santigold
Santi White (AKA Santigold) is among America's most intellectual artists ever. Refusing to buckle to the pressure of recording studios, she takes years in between records to really find the right sound for her. Along with contemporaries like Flying Lotus, she has overtly described her music style as "genreless". By merging so many different schools of thought, instruments, production techniques and influences, her sound is unlike anything you've heard before – and it just might be the future of music.
Radiohead
What started as a garage guitar band with a punk lean has grown over the last 30 years into an electronic, heaving creativity machine with so many cogs, whistles and motors that it's hard to comprehend. No longer offering the traditional rock album format, Radiohead's last two records – In Rainbows and King of Limbs – have both included a huge variety of genres from track-to-track. One minute you'll be listening to something very folky, with just guitars, and then the next track will immerse you in waves of full-on electronica. Keep it coming, guys!
Beastie Boys
Are they punk? Are they hip hop? Are they rock? Or are they just shouting on stage? Who knows, but whatever this sensational band does, people absolutely love it. It's strange to think that one of the biggest hip hop groups of all time originated as a hardcore punk outfit, but you can definitely see the influence in some of their more frenzied songs. The weirdest thing for us, though, is that they toured with Madonna in 1985. Madonna!! How did that go down? We would love to go back in time and find out…