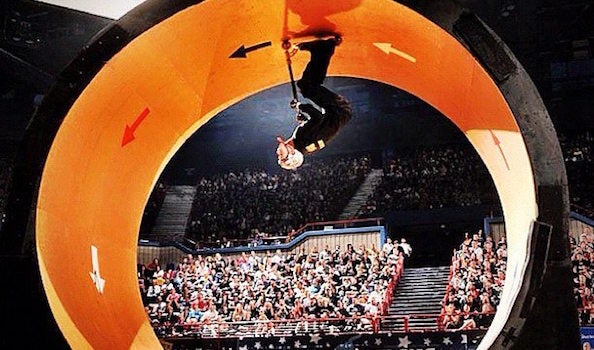 15 Dec 2015
Nitro Circus Live: The Most Extreme Moments
The most spectacular live action sports show in the world is heading to The O2 in February, bringing together the best FMX, BMX and skate athletes on the planet for a two-and-a-half hour extravaganza of choreographed chaos. Needless to say, we're pretty psyched – and we're not the only ones, ‏@Marthudson is definitely starting to get in the mood, too: 'Nitro Circus tickets bought, now this is something to get excited about.'
Nitro Circus tickets bought, now this is something to get excited about @nitrocircus @ryansullivan0 https://t.co/9XqXDOQRQD

— Martin Joseph Hudson (@Marthudson) June 5, 2015
To get YOU in the mood as well, here's our pick of the most insane, ridiculous and jaw-dropping stunts to have ever been attempted on the Nitro Circus Live world tour.
Jaie Toohey – Backflip triple tailwhip (BMX)
Whipping the bike so fast you can barely see it, the Aussie rider makes this look effortlessly easy. It definitely isn't.
Adam Jones – Ruler flip (FMX)
Attempting this trick is terrifying enough, let alone pulling it off with the crazy extension veteran FMX star Jones manages in this clip.
Matt Whyatt – Whip flip 360 (BMX)
This ludicrous trick is exactly what it sounds like – a tailwhip, backflip combo with a cheeky 360 tagged on the end – and Whyatt absolutely nails it.
Clint Moore and Thomas Pagès – The volt (FMX)
Some stunning, synchronised FMX action here from this half Aussie, half French double act.
All in – The Nitro bomb (BMX & FMX)
Speaking of team-ups, the whole Nitro crew gets involved for this epic group backflip run, with bonus flamethrowers thrown in for good measure.
'Special Greg' Powell – Special flip (BMX)
Powell's signature trick – where he performs a backflip in midair sans-bike – is just one of many unbelievable world firsts to have taken place at a Nitro Circus Live event.
Taka Higashino and Adam Jones – Double grab backflip (FMX)
Another first of its kind, this mind-blowing stunt features a pair of riders who had been duelling for X Games gold only a few weeks prior.
Taka Higashino – Rock solid backflip (FMX)
Time seems to stand still as Higashino momentarily detaches himself from his bike during this death-defying trick.
James Foster – Triple backflip (BMX)
Fellow Nitro rider Jed Mildon may have raised the bar by landing the first quadruple backflip at Pastranaland earlier this year, but Foster's otherworldly triple is still a thing of utter beauty.
Josh Sheehan – Double backflip (FMX)
Likewise Sheehan's seemingly effortless double backflip, which he actually bested himself back in April by landing an unprecedented triple. Watching him do the double is still a highlight of any Nitro Circus Live event, and more than worth the admission price by itself.