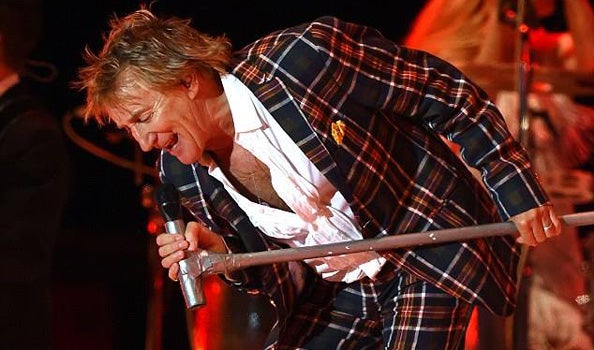 6 July 2016
Old School Singers Still ROCKING It Today!
No matter how many scandals, divorces and ups and downs they go through, some stars just won't give it up. And thank heavens for that, because we have so much love for old school acts still holding their own on the world music stage today.
So forget what genre you're into, it's time to dig around the attic for your albums of yesteryear and get on down to the tent to see these AMAZING greats doing what they do best.

Simply Red
Mick Hucknall has called time on Simply Red a couple of times now, but something keeps bringing them back together. Seven years after announcing their split, Hucknall came out of retirement to release a new album and go on tour. Golf not for you then, Mick? You can catch Simply Red at The O2 arena on 27 November 2016.

Rod Stewart
It's been a big old year for Rod, sorry, Sir Rod. He's bagged himself a knighthood and seen his beloved Celtic win the Scottish league – and the year isn't over yet. At the ripe age of 71, Stewart can still pull in a crowd. In fact, he's playing not one, but three gigs at The O2 this November. So get your dancing shoes on and prepare to celebrate 40 years of his greatest hits. It's @AlisonDLima's birthday, and she's up for a party. What thoughtful daughters you have!
@rodstewart coming to the O2 in November to see you. Birthday present from my daughters. Can't wait.

— ❧ Allison D'Lima ❧ (@AllisonDLima) June 23, 2016
Status Quo
Status Quo have been rocking all over the world for 50 years, so it's maybe no surprise they're calling time on touring. The band told reporters they 'don't want one of them croaking on stage', so if that's not an incentive to grab some tickets to their show at The O2, we don't know what is. Make sure you add 11 December to your diaries!
The Four Tops And The Temptations
Motown's heyday might have been in the '60s, but fast forward 50 years and there are legions of fans who still can't get enough. If you're one of them, make sure you grab tickets for The Four Tops And The Temptations, who have joined forces for an epic tour. Just say I'll Be There and that I Can't Help Myself and that your Papa Was A Rollin' Stone and you'll (hopefully!) know what we're talking about.