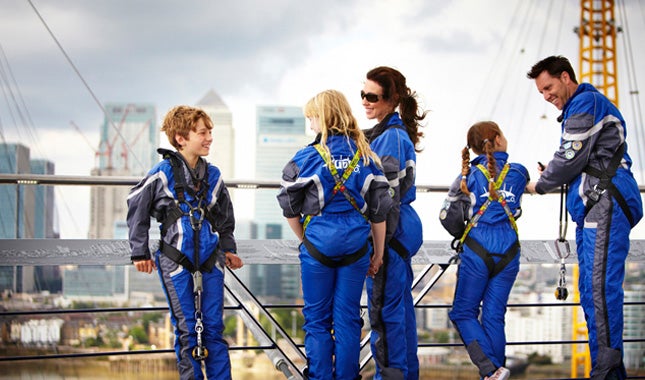 18 Mar 2016
Our Guide To An Adventure-Packed Easter
Half term is fast-approaching once again; that rare opportunity to escape the hustling mornings, frantically trying to get your kids to school on time.
With two whole weeks to do whatever you like, we explored some action-packed ideas to transform the whole family into urban adventurers, without having to leave the city.
Here's our guide to turning London into your very own Mount Kilimanjaro...
Go for a swim in the wild
Okay, so we really don't recommend diving straight into the Thames – in fact, DEFINITELY DON'T GO SWIMMING IN THE THAMES. It most likely won't end well. But there are some great outdoor swimming options in London that will make you feel like you're floating across a freshwater mountain river. Hampstead Ponds, for instance, is utterly stunning. And you can even go swimming in an outdoor art installation at King's Cross Pond Club. Alternatively, you can always just fill up a bathtub, bring the living room plant into the bathroom, and let your imagination do the rest.
Become an urban mountaineer by conquering
If it's urban mountaineering you're looking for, we've got you covered. G doesn't do escalators or lifts. In fact, we don't even do stairs. We do, however, specialise in stunning 360° panoramic views of London – but we'll good-naturedly make you and your family work for it. One of the most truly unique and awe-inspiring experiences in London, Up at The O2 offers a thrilling climb to the summit of our iconic dome – a whole 52m above street level – packed full of the exhilaration and adventure you can only get from mountaineering. We'll provide climb suits, harnesses, footwear and a friendly climb guide, and you guys will have to do the rest.
I recommend Up at the O2 as an experience. Brilliant views of London and a really fun climb too.

— George Attwell (@GAttwellG) June 23, 2013
We promise George doesn't secretly work for us!
Book tickets for you and your family…
Transform into an urban explorer
We might be surrounded by a seemingly never ending stretch of concrete, but that doesn't mean you can't go exploring. Stick your hiking boots on, top up your Oyster card, and embark on an adventure-fuelled city expedition. From the historical cobbled streets of London Bridge to the winding canals in Little Venice, the nooks and crannies of London are endless, and you never know what you'll discover.
Sleep out under the stars
You don't have to drive deep into the countryside to enjoy a genuine camping experience. Firstly, with the right attitude and some good hot chocolate, you can turn your very own back garden into a national park. If, though – like most Londoners – you don't have a back garden, you'll be amazed at how many camping options there are right here within the M25. And if you decide you can't actually face sleeping in a tent, most of London's campsites also have caravans ready and waiting to be inhabited – which always provides a perfect balance between nature and civilisation.
Come face-to-face with a live animal
Few things represent nature and the wilderness quite like a live animal. And sure, you'll struggle to come face-to-face with a mountain lion while strolling through east London, but there's plenty of room to compromise. You could patiently hang around London's backroads hoping to catch a glimpse of a city fox; or head down to Hyde Park and revel in the insane amount of squirrels roaming about. Or pop into Hackney City Farm, where there's always a wide range of ridiculously cute animals on show. They might not have any wild antelope, but you really can't go wrong!