Our Official Round-Up Of 2016 [4 Mins]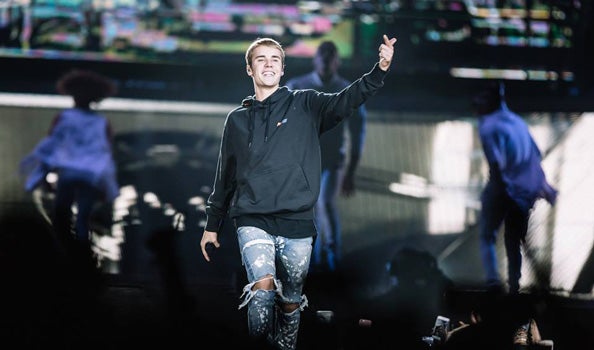 19 Dec 2016
Our Official Round-Up Of 2016 [4 Mins]
We don't want to gloat, but 2016 has, quite frankly, been another awesome year here at The O2. From big-name music acts to massive sporting events, we've helped create some pretty amazing memories for you lovely lot.
Sit back and relax, 'cos it's time to reminisce – here's our round up of the best moments from the past 12 months...
Music
We've kinda gained a reputation for hosting music acts from all corners of the globe – and 2016 was no exception. Adele moved the crowd to tears, Justin Bieber tore up the stage and the Red Hot Chili Peppers proved why they're still top of their game.
Little Mix enjoyed their time here so much that they're set for another stint in 2017, and @Claudiaa81 can't quite believe her luck!
I don't know if I'm more excited to see little mix or finally be at the O2 (probably seeing the arena if I'm being honest)

— Claudia V (@Claudiaa81) 3 December 2016
Sport
There are two sporting events from 2016 that really stand out in our minds – Gennady Golovkin's showdown with Kell Brook, and the ATP World Tour Finals, when Andy Murray secured his place as world number one. Coincidentally, they both happened here at The O2 and, needless to say, the atmosphere was electric, as @mazontour found out...
Here at the O2 Kell Brook v Gennady Triple G Golovkin pic.twitter.com/6RdF9tJUQJ

— Mario Almeida (@mazontour) 10 September 2016
We've also had WWE Raw AND Smackdown, as well as Premier League Darts under the tent this year. It's certainly been a busy one – and we can't wait to do it all again in 2017.
Comedy
There were plenty of laughs down at our place over the last 12 months, including Kevin Hart's What Now? Tour, which kicked off back in January. Other highlights included Channel 4's Comedy Gala and Queen of the Put-Down Amy Schumer. @kizzyameliarose certainly enjoyed the show…
Saw Amy Schumer at the O2 last night. My day has consequentially been a series of mundane moments interrupted by sudden hysterical laughter.

— Kizzy 🌱 (@kizzyameliarose) 5 September 2016
Culture
Everyone loves a bit of culture now and again, and here at The O2, we're only too happy to oblige. One of the highlights was hosting an exhibition dedicated to the late, great Muhammad Ali. You came through the doors in your thousands to take a look at memorabilia and find out more about the boxing legend.
Since then, we've opened the STAR WARS Identities: The Exhibition, which includes 200 costumes, props, artwork and models you just HAVE to see if you're a fan of the films. The great news is it's on until 3 September 2017, so you've still got plenty of time to take a look.
Venue
Although we're known for welcoming great acts and exhibitions, there's lots going on here all year round. From our awesome nightclub Building Six to the Nissan Innovation Station, we sure know how to keep you guys entertained.
Plenty of people have also conquered Up at The O2 – if you're not one of them, then make sure you take @kulsumadam's advice and put it on your bucket list for the coming year.
Up at the O2 was an amazing experience that I think everyone should do at least once!

— Kulsum Adam (@kulsumadam) 16 October 2016
We're already getting excited for what the next 12 months have in store. See you down here in 2017!