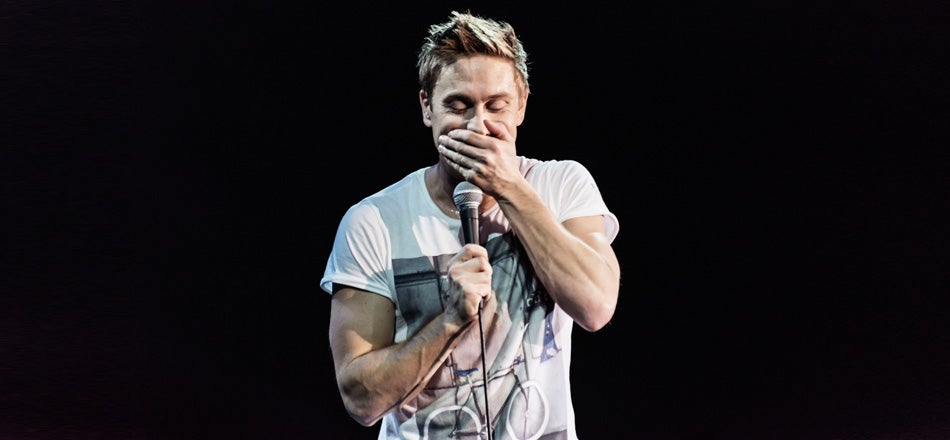 12 Nov 2014
Good news
Russell Howard has proved that it's not all doom and gloom. Already in its ninth series and seemingly more popular than ever, Russell Howard's Good News is a show that helps us escape the harsh realities of life by taking a look at humourous, interesting and heart-warming stories.
It's a celebration of humanity's better side. And we can't get enough of it. So, in honour of the great show, here are our favourite good news stories from the past couple of weeks.
​
5. Daniel Radcliffe raps
Potter is long gone. Here is Daniel Radcliffe on The Tonight Show with Jimmy Kimmel explaining his love of rap music and then actually rapping. Yes, you read that right. You'll never look at him the same way again. And it's awesome. Trust us. Watch below.
4. New York discovers a frog
No, it's nothing to do with the Teenage Mutant Ninja Turtles. Researchers in NYC have found a brand new species of frog lurking in the wetlands and ponds of Staten Island, right next to the Statue of Liberty. How did they ever miss it?! Check out the full story.
© The Independent
3. The NoPhone gets funded
Are you always on your phone? Do you sit in silence with your loved ones as you tap away on your respective devices? The NoPhone gives your hands something to do while enabling you to function normally in any social setting. Click to read the amusing Kickstarter page.
© NoPhone
2. Languages of the London Underground
If you wander around London, chances are you'll hear several different tongues. Now a bright spark from UCL has created a tube map of the city's second languages (after English) using data from the 2011 census. The most linguistically diverse station is Turnpike Lane. Who'dathunkit? See more results.
© The Guardian
1. Abused dog gets pampered
Not so long ago, Baladi the dog was suffering terrible abuse on the streets of Cairo while her family were slowly killed. It was only when she was hit by a car and left for dead that she was rescued and given a new life in America. Here she is looking blissfully happy with her new pals, two Patagonian maras. Watch below. It's too cute.