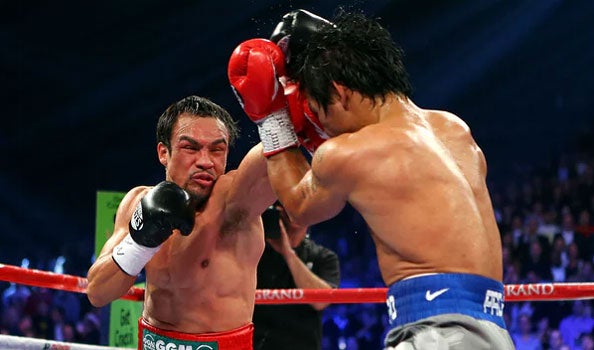 4 Aug 2016
Six INCREDIBLE Fights That Were Way Too Close To Call
An evenly-matched fight is the dream for a crowd. Nobody can predict what'll happen and the fighters give it all they've got right up to the end. Of course, that's a lot easier when the match has a time limit – fancy a seven-hour bout, anyone? Read on to see which blockbuster boxing matches ended in draws, and who holds the rather ridiculous record for longest match in history.
1. Gene Fullmer vs Joey Giardello
In 1960, US middleweight Gene Fullmer was dealt the first draw of his career when he went head to head with Joey Giardello (who'd go on to be crowned middleweight champion of the world three years later). It was a fierce fight; Giardello ended up with a nasty gash across the back of his hip, and asked 'how did it get there? Was I fighting him backwards?'. He later admitted to slashing Fullmer's eye deliberately – naughty.
2. Vito Antuofermo vs Marvin Hagler
A bloody bout between Vito Antuofermo and Marvin Hagler in 1979 ended in a draw after 15 rounds and six deep cuts requiring 25 stitches. This was finally Hagler's shot at the middleweight title and everyone thought he had it in the bag when, just before the judges' decision was read, the referee muttered to him, 'Stay facing this way until they announce the decision and I raise your arm'. When it was revealed that the fight was a draw, Hagler stormed out of the ring and demanded a rematch, which he didn't get.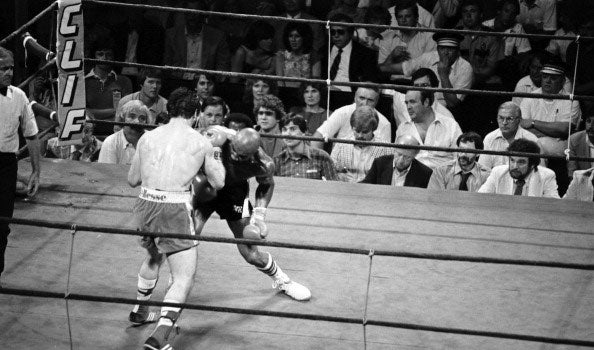 3. Manny Pacquiao vs Juan Manuel Marquez
The outcome of the 2004 fight between Manny Pacquiao and Juan Manuel Marquez was a controversial one. Marquez admitted he'd entered the fight 'overconfident' and was knocked to the mat three times in the first round, but the ref declared him fit to continue. He came back fighting in the fifth round and the fight turned into a close one. But when it came to scoring, one judge called it for Marquez, another for Pacquiao and the third called it a tie. He later confessed to 'screwing up' and 'dropping the ball' because he'd mistakenly scored Marquez an extra point and accidentally cheated Pacquiao out of a victory. Ouch.
4. Andy Bowen vs Jack Burke
Now this one is crazy. In 1893, Andy Bowen and Jack Burke went a ridiculous 110 rounds in the ring, fighting for more than seven hours. Even worse for Bowen and Burke is that there was no winner; they were fighting for the lightweight title of the south, but the referee deemed the fight a draw when it became pretty obvious neither of them had the energy for another punch. It's hardly surprising both fighters lost nearly ten pounds each by the end of the match. But if you think that's impressive, the following month Bowen broke his left hand in a four-hour fight and beat his opponent one-handed!
5. Jones v Tunney
And the Guinness World Record for most rounds in a match goes to… Jones v Tunney with 276 rounds! The insanely close Cheshire fight took place 42 years before the 1867 Queensbury Rules capped rounds at three minutes, so each round just lasted until somebody was knocked out (you got off lightly then, Bowen and Burke). You'll be pleased to know this one wasn't a draw – Jones won. Hurrah Jones!
6. Mike McCallum vs James Toney
A draw between 35-year-old Mike McCallum and 25-year-old middleweight champion James Toney in 1991 led to a slanging match outside the ring. Toney had to be restrained by guards after he reacted angrily to comments made by McCallum's attorney about the fight, while Toney's manager thought the whole thing was silly, insisting Toney had won fair and square and there was no reason for a rematch. Lucky for him, the pair did fight again the following year and Toney won!
If it's evenly-matched fights you're after, get down to The O2 for Gennady Golovkin v Kell Brook this September. It's set to be a pretty incredible showdown between the world's number one middleweight and the IBF welterweight champion, with the duo racking up a combined 57 wins by KO over the years. It's going to be a tight one, but we can promise it won't last 276 rounds and nobody will win one-handed, probably.