Home
Summer Of Fun At The O2 Photo Competition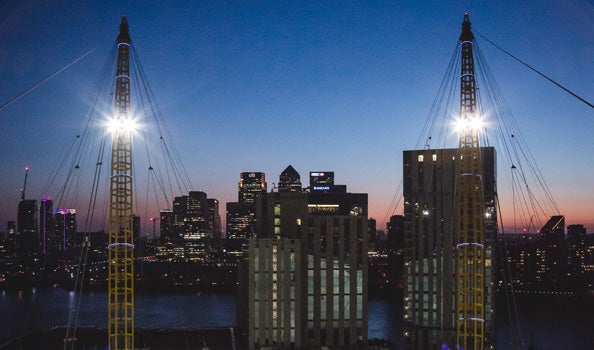 8 Aug 2016
Summer Of Fun At The O2 Photo Competition
We're inviting budding photographers to enter our fantastic competition for the chance to be an official photographer for The O2. The prize also includes a meal for four at one of the many great restaurants the venue has to offer, along with a climb for four to the roof of the arena with Up at The O2.
To get involved, simply head over to The O2 to enjoy one of the many fun and unique things to do, take a picture of your experience and share it on Instagram using #SummerOfFun and @theO2london.
Whether you're after an awesome family day out, an adrenaline rush with mates or a date night with a difference, The O2 is full of fun activities to enjoy this summer, with loads of amazing picture opportunities!
Visitors can embark on an adventure by becoming an Urban Mountaineer with an exhilarating climb Up at The O2 – just imagine the views of the city from the roof top! Or, snap away at the rock 'n' roll-themed Brooklyn Bowl for some retro style photos. If food photography is more your thing then The O2 is perfect as it's home to some of the best bars and restaurants in London for snapping delicious dishes. Check out the events page for a full list of things to do at The O2.
To help get you started, we've teamed up with the inspiring Instagram photographer Dave Burt of @London who's shared his top ten tips for taking a great photo…
Get a unique perspective
How can you take a different shot to everyone else? Be patient enough to get your camera into a unique position, or angle. Don't do what everyone has already done. Push yourself to come up with something new. Put your camera down low, and shoot up. Or find a vantage point that no-one else has thought of.
Stand out from the crowd
Timing is everything, it's the difference between an average shot, and a great shot, so stay alert and be ready to catch a magic moment. On some cameras like the iPhone 6S Plus, which I use, you can hold down the button when you take a photo, and the camera takes multiple shots. You can then choose which of the photos was the best snap, which is handy in fast-motion sequences.
Grading your images
On my iPhone I edit all my photos in VSCOcam. It's a free app, which I've been using for years. You can also pay for additional filters, which I've done. But I normally work with filter A6 mostly. Any of the stock filters will give you a range of great options to help you grade your photos, and it can help transform average photos, into master pieces.
Advanced editing techniques
Try taking the saturation of your photos down by 2 or 3 points, and then boosting the contrast by an equal amount. I use this technique all the time, which makes my images look different to the over-saturated images that often appear on social media.
Shoot into the light
I'm a big fan of shooting into the sun. Even on a smartphone it can create spectacular lens flare details on your images. I particularly like it during sunrise and sunset, and when the sun peaks around a building or landmark. Shooting during sunsets will deliver you the most spectacular results.
Exposure
Try and get your images balanced at the moment you are taking your photo. With sunshine and bright skies, it's important not to "blow out" the sky, which means making the sky too bright. If you do, you will lose the detail and you cannot recover it later on a smartphone. Instead, I always favour perfect exposure, or slightly under exposed (darker), because I can always boost the shadows and detail later when I brighten the image. But remember, you can't bring the detail back, if you've over exposed the image in the first place.
Rules and breaking them
I am a big fan of the Rule Of Thirds (applied by aligning a subject with the guide lines and their intersection points, placing the horizon on the top or bottom line, or allowing linear features in the image to flow from section to section). But I leave myself the freedom to break it. It can be used in many situations, and it will always deliver you a result that is pleasing to your eye, particularly with landscape images that have a section of sky and section of land or sea. But every now and then, I like to break the rule and create an image that can stand on it's own two feet. So feel free to break the rules.
Pro Camera Street Photography
My professional camera is a Canon 5D MkIII. I shoot in manual, exposing each shot for shutter, aperture, and ISO. But for street photography, where you sometimes have to take a shot in a split second, or steal a moment, I shoot with my ISO on AUTO. Why? Because I don't always have the luxury of time and composing a perfectly exposed shot. Instead I tell my camera what shutter speed and aperture to operate eg: 1/1000 x f/4.0, and by allowing the ISO to bounce up and down in changing lighting conditions, the camera does the hard work in exposing your shots for you, freeing you up to be the photographer and creative.
Working with natural light
I never use flash. I just don't like the way flash images look, with bright subjects at the front, and dark areas at the back. Turn your flash off, and learn to work with natural light. If you have a professional or mid-range camera, have fun with prime lenses like a 50mm f/1.4, or my favourite the 50mm f/1.2 by Canon. If you are on a smartphone try Cortext Cam to take your pictures in low light – it blends multiple exposures and removes noise to great effect.
Music
I often shoot whilst listening to music. I set aside time to wander around London, and I lose myself in music, which fuels my creativity. Music really impacts my mood. Coldplay's "Midnight" is a great track for shooting the underground. Foal's "Give It All" is perfect for sunset on the Southbank.
T&C's
To enter, visitors must snap their experience at The O2 and share on Instagram using the hashtag #SummerOfFun and the handle @TheO2london.
The prize will be to photograph an upcoming event at The O2, a meal for four at one of the restaurants to the value of £100 and a climb Up at The O2 for four people (to be used within 12 months)
The exact event is yet to be confirmed at will be at The O2's discretion
Entries will need to be submitted by Monday 22nd August 2016
The winner will be selected on Monday 29th August 2016