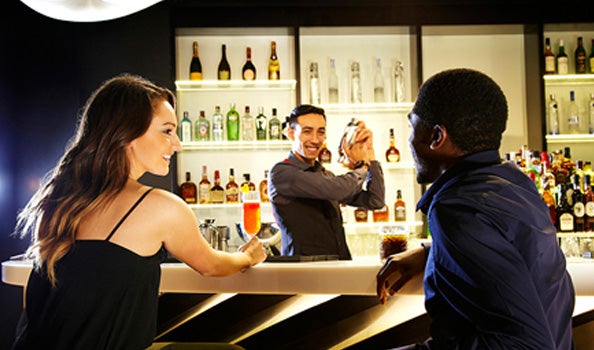 22 Sep 2015
Taking A Date To The O2?
Here's our guide to making sure they leave happy
You may know us for hosting London's biggest concerts, or for our extensive range of bars and restaurants; but here at The O2 we take great pride in ensuring our audience leaves with a smile. If you're happy, we're happy, which is why we've decided to branch out into the world of awesome dating advice.
Seeing as we've played host to countless successful dates in our time – whether it's an exciting first drink or a long-term couple out for some quality time together – we consider ourselves experts in the dating field, with the perfect setting for love to blossom. @glowingswift certainly concurs, tweeting: 'a date at The O2 would be so good, there's so much space to meet everyone, so much room for activities!!!'
a date at the o2 would be so good, there's so much space to meet everyone, so much room for activities!!!

— lucy (@glowingswift) February 1, 2015
Cheers, Lucy, we totally agree!
So here's our sure-fire guide to impressing a date at The O2. We've totally got your back on this one, guys!
Hunger is no one's friend
Being hungry never helps a budding relationship – particularly if your date is prone to severe impatience and general bouts of grumpiness when peckish (we've all been there).
Luckily, you're spoilt for choice at The O2, with our fantastic, worldwide cuisines – from Italian to British, Oriental to Latin, and a whole load more. One thing is for sure, though; with Byron, Five Guys and Gourmet Burger Kitchen under our roof, you'll never be stuck for a great burger while we're around.
Ask as many questions as you answer / be interested as well as interesting
There's nothing worse than sitting through five hours of someone talking endlessly about themself. Don't be that person. It's so, SO boring! Instead, make sure you show an interest in your date. Ask lots of questions. There's no better way to find out if you're compatible with someone.
Cocktails = FAR less awkwardness
Okay, perhaps not on a day-to-day basis. But on a first date it certainly helps to obliterate any initial unease. A couple cheeky cocktails can take you from rambling uncomfortably to being a champion of banter. And if it's a tipple you're after, you've come to the right place!
For extra brownie points, we recommend finding out what your date's favourite drink is in advance (be sneaky if you have to). Chances are, whatever their beverage of choice is, you'll find it here – and you'll look incredibly sweet, caring and thoughtful.
Get all spontaneous!
A touch of spontaneity goes a long way, particularly on a date, and here at The O2 we make sure we cater for precisely that sort of thing. Did you know we have a bowling alley, a cinema and some great exhibitions – including the Ali exhibit and the Nissan Innovation Station?
If you really want to make a long-lasting impression, though, take your date to Up at The O2 for some serious adrenaline-pumping action, climbing over our iconic roof. This isn't for the faint hearted, but looking down over the stunning London skyline will be the perfect (and least creepy) setting to go in and brave that first kiss. As always, we wish you the best of luck with that one – and if it doesn't go to plan, just remember, they absolutely don't deserve you!
Oh, and if you're a Sky customer, don't forget Sky Backstage for some serious VIP treatment. The O2 is your oyster.
And if there's only one piece of advice we could give, it's to definitely NOT do this. Ever!
Although we commend @TomChambers' cheekiness, we certainly don't recommend taking his approach to dating: 'Imagine telling your mrs that you're taking her to the O2 on a date. "Ah who are we watching babe?" Boxing.'
Imagine telling your mrs that you're taking her to the O2 on a date. "Ah who we watching babe?" Boxing. 😂👊🏾🏆

— Tom Chambers (@TomChambers1) May 30, 2015
Do let us know how that worked out there, Tom. We're all hugely intrigued!