Home
UNFORGETTABLE Team Building Experiences In The O2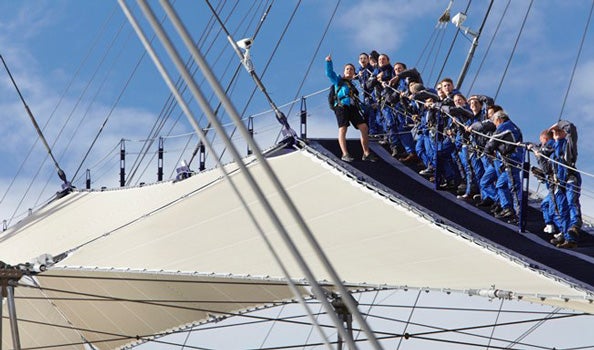 3 Oct 2016
UNFORGETTABLE Team Building Experiences In The O2
Team building: two words guaranteed to strike fear into the heart of any employee. Whether it's sitting in front of the world's most boring PowerPoint or sharing fun facts about yourself, there's nothing more demotivating than trying to be, well, motivational.
But fear not. Team building no longer has to be a bore... and the good news is, it's all under one tent.
Up at The O2
There's nothing more guaranteed to get your team together than scaling one of London's most iconic buildings. Imagine the adrenaline of ascending 52 metres and being rewarded with 360-degree views of the capital. @kclsu_vpwc and co. know first-hand just how awesome the sense of achievement is…
Taken on Tuesday at the top of the O2. Team building= Complete. @kclsu_president @kclsu_vpad @kclsu_vpeas @KCLSU_vphe pic.twitter.com/H6dTrshlpj

— Mahamed (@kclsu_vpwc) August 21, 2015
The best part? You can book a private climb for up to 30 people so you won't have anyone else cramping your style.
Sky Studios
Every office has that one person who likes the sound of their own voice, so what better place to put it to work than at Sky Studios? Sit behind the news desk and read the latest headlines from Sky News or Sky Sports. We'll even give you a recording of your newsreader experience to share with family, friends and any colleagues who came up with a lousy excuse not to come along.
Oh, and did we mention it's free?
Nissan Innovation Station
Who doesn't love fast cars? If you work with a team full of petrolheads, look no further than the Nissan Innovation Station.
Here, you can go head to head with colleagues on the custom built Nissan race track and Gran Turismo 6 racing pods. There's Nissan merchandise up for grabs for anyone who tops the leaderboard. It's the only way to earn the bragging rights to office speed demon.
Building Six
The thought of going clubbing with your workmates doesn't have to fill you with dread, especially if Building Six has anything to do with it. The club is spread over three floors, so the main challenge is making sure you don't lose each other.
The Body Kinetic dance floor reacts to the bass line of the music, so you can feel it moving right through your body. There's a reason we reckon we've got one of the most epic nightclubs in the world.
But if the music gets too much, head to the outdoor terrace complete with seating, heaters and even beds - if you've been working (or dancing) too hard!
Go to a gig
If there's one thing we're good at here, it's putting on the most awesome gigs. So what better way to get your team together and win Boss of the Year by taking the entire clan to a concert?
We've got something to suit every taste, so you can satisfy even the most awkward employee. Who knows, you might even make your kids jealous, eh @Char_Cx?
My dads team building day at the O2 watching @TinieTempah 👍 slightly jealous pic.twitter.com/Xn04Ix4oJ8

— Charlotte Cruttenden (@Char_Cx) September 24, 2014