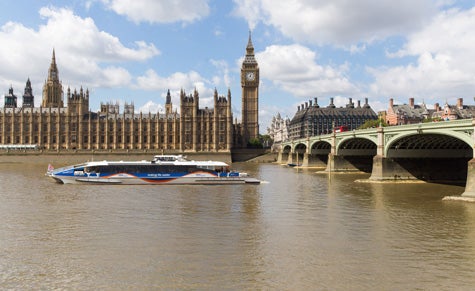 3

Apr

2014
MBNA Thames Clippers are a great alternative to traditional public transport
Whether you're commuting, sightseeing or coming to The O2, MBNA Thames Clippers are a great alternative to traditional public transport.
The fastest fleet on the river stops at all the major business and tourist hotspots while guaranteeing you a comfortable seat, refreshments and free wifi. There's no queuing on the river, so there's no need to worry about getting stuck in tube tunnels or traffic. It also doesn't matter if you're a regular or one-off guest, you'll always get excellent value for money.
River Bus Express to The O2
The River Bus Express is a dedicated fast service running between Central London and The O2 before and after arena events. The journey takes around 35 minutes with departures from the London Eye stopping at London Bridge and Canary Wharf before arriving at North Greenwich for The O2.
Boats begin to leave North Greenwich 15 minutes after the event finishes and continue until there are no further passengers. This means you'll never have to worry about the crowds or making the last tube. Book MBNA Thames Clippers tickets here.
Check out all the different ways of getting to The O2.
The brand new MBNA Thames Clippers website has just launched which means that you can now book tickets and get all the latest service information on the go. The site also lists lots of popular landmarks and attractions around the river which takes the hassle out of planning your next outing.
Fancy a family trip to something fun? Want to find out what should be at the top of your London to-do list? It's all on there. See the new MBNA Thames Clippers site for yourself and be inspired.