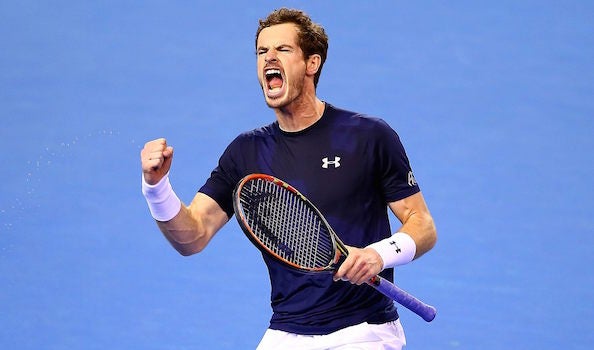 29 Apr 2016
The 5 Most Epic Andy Murray Moments
It's rare to see people from England, Ireland, Wales and Scotland ALL cheering for the same thing, but when Andy Murray lifted the 2013 Wimbledon trophy, everyone kinda went a little nuts.
It was only natural. After all, the man has produced some of the most fist-clenching moments in British sport over the past decade.
As we gear up for November's Barclays ATP World Tour Finals, we took a look back at the most epic Andy Murray matches ever...
2005 – His Wimbledon debut
With Tim Henman's career drawing to a close, there was plenty of speculation about who would pick up the torch for British tennis. The answer was an 18-year-old Scot, who made it to the third round on his first visit to the All England Club before eventually losing to former finalist David Nalbandian in a riveting five-set encounter.
2012 – Olympic glory
After suffering the heartbreak of losing his first Wimbledon final to Roger Federer just a few weeks prior, Murray bounced back in emphatic fashion by beating the Swiss master in straight sets, 6-2, 6-1, 6-4 to capture Olympic gold – and his first major title – at London 2012.
2012 – His first slam
After four failed attempts, Murray finally triumphed in his fifth grand slam final at the US Open – becoming the first Brit to do so since Fred Perry in 1933 – after besting Novak Djokovic in a five-set thriller that lasted nearly five hours.
2013 – Victory at Wimbledon
Britain's 77-year wait for a men's Wimbledon singles champion came to an end in spectacular fashion when Murray once again defeated Djokovic – this time in straight sets, 6-4, 7-5, 6-4 – in front of a boisterous crowd on Centre Court.
2015 – Britain's Davis Cup triumph
It was a victory that returned British tennis to the pinnacle of the sport after years in the doldrums, and it was largely due to a string of imperious performances from Murray, who won all of his 11 rubbers including eight singles and three doubles matches playing what Sunny Chan describes as 'superb' tennis throughout.
Britain winning the Davis Cup is pretty unbelievable. @andy_murray superb throughout. Valid bet for BBC #SPOTY #DavisCup

— Sunny Chan (@DrWaiSun) November 29, 2015