Home
The 6 Most AWESOME Places To Catch A London Sunset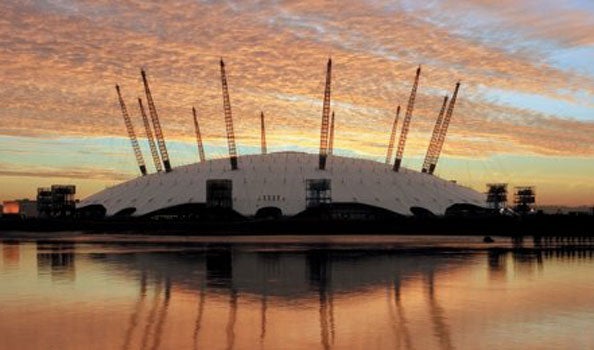 1 Sep 2016
The 6 Most AWESOME Places To Catch A London Sunset
Don't let the sun go down on me – unless you're in London and you have an AMAZING view! We round up London's best social media sunsets.
1. Duck and Waffle
If you haven't yet tried out Duck and Waffle, billed as the highest 24/7 restaurant in London, then you're in for a treat. As @__VictoriaR recently found out, not only is the food totally dee-lish, but the view isn't bad either!
Sunset is London was beeeautiful! @DuckandWaffle pic.twitter.com/iF1dfU5S3P

— V I C T O R I A (@__VictoriaR) August 15, 201
2. The O2
We don't mean to boast, but our tent is 52 metres tall at its highest point, so if you're after somewhere to track down the best sunset, we reckon we've got it covered. With Up At The O2's Sunset Climb, you don't have to worry about other happy snappers ruining your shots – just grab your camera and off you go. @shellahhhh had the right idea…
3. Deptford Bridge DLR Station
We couldn't quite believe it either, but @mfl69 has convinced us that Deptford Bridge in south-east London is just as worthy of an awesome sunset as anywhere. You've just got to figure out how to get up this high…
4. Hyde Park
Hyde Park is about more than feeding the ducks and re-enacting scenes from your favourite films (or is that just us?), it's also a great place to see the sun go down. Have your camera handy and you might catch a cracking photo like this one from @jewelchic. Beautiful.
5. London Docklands
London Docklands might be steeped in history, but for now, let's focus on its epic sunsets. @SarahFosseArt caught this on a recent evening stroll, proving there is such thing as a decent British summer!
Just got to #loveLondon ! lovely #sunset walk tonight #Docklands #London #TheShard #summer #river #Thames pic.twitter.com/AHJZWn86vx

— Sarah Fosse (@SarahFosseArt) August 16, 2016
6. Putney Bridge
Ever headed over to Putney Bridge in search of a jaw-dropping sunset? No, we haven't either. But that's OK before @bakrim2000 has done it for us, and we must say we're pretty inspired!
The view From #PutneyBridge , the view was good tonight #London #putney #sunset @bbcweather pic.twitter.com/kyLhYpgZ4P

— Abdel (@bakrim2000) August 16, 2016