The 6 Most Touching Dalai Lama Moments
The 6 Most Touching Dalai Lama Moments
Last month, this tweet from @t_mowgi completely cracked us up.
O2 Priority's lost the plot. See the Stereophonics live, see Little mix live, see...the Dalai Lama??

— Shahzad Ali (@t_mowgli) August 26, 2015
Yep, Shahzad, that's right. You can come catch the Dalai Lama at The O2. We're not just a pretty face, you know – we've got soul, too!
When you think of peacefulness and tranquility, it's hard not to think of the Dalai Lama. Otherwise known as Tenzin Gyatso, he has become an iconic feature of benevolence and serenity all around the globe, so it's no wonder he's become a source of inspiration for millions of people across race, religion and time.
We're buzzing to hear him explore the concepts of compassion and well-being in a few days' time, but to prepare ourselves, here's a reminder of some of his most touching and epic moments…
'It's mine! It's mine!'
Being the religious leader of Tibetan Buddhists is a pretty ancient honour, and it's decided in an utterly unique way. When a Dalai Lama passes away, he leaves clues to his reincarnation. The 13th Dalai Lama's council searched far and wide to find the man we know and love today, who was a mere toddler from a poor farming family.
So, how did they decide it really was their spiritual leader, born again? They laid out a variety of objects, one of which belonged to the predecessor. Baby Gyatso reached straight for the holy toy screaming, 'It's mine, it's mine!' – leaving the men in no doubt they had found who they were looking for.
The ultimate peace prize
Although not arguing back when your boss shouts at you is an amazing sign of self-restraint and inner peace, it doesn't quite cut it compared to the Dalai Lama's biggest achievement of all.
Not many people can claim to have won the Nobel Peace Prize, but in 1989, Gyatso did just that, alongside Mikhail Gorbachev, for advocating and encouraging non-violent ways to liberate his home country of Tibet from China. This was an amazing feat of self-control for such a personal and tragic matter – watching the country he was supposed to be leading crumble before his eyes, and being exiled to India.
Despite his hardships, he tirelessly campaigned for peaceful negotiations for thirty years before receiving the prize. His incredible work continues to this day.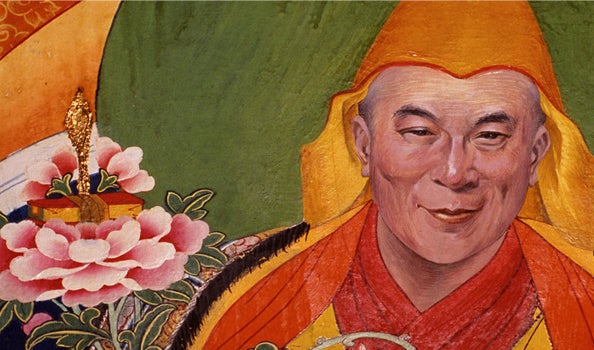 Making friends with the world
Far from viewing his religion as exclusive or exclusively right, the Dalai Lama works hard to try and learn from as many other cultures and faiths as possible, to improve communication between different races and religions, and to tread the path towards a universal truth. In 2009 he inaugurated the World Religions Dialogue & Symphony – a conference to try and solve the problems of inter-faith conflict and address the differences that most commonly cause discord. He's also met with a whole host of religious world leaders, from The Pope to Hindu preacher, Morari Bapu.
The power of science
One of the things we truly love about the Dalai Lama is that he totally embraces science and modern technology – arguably his passion lies more in the scientific than the spiritual! He has often said that, if he wasn't one of the most influential religious leaders in the world, he would have become an engineer.
This passion for building and mending machines has been prevalent all through his life: from owning three of the four cars in the whole of Tibet during his early adulthood, to collaborating with Adam Engle on a popular series of conventions, named Mind and Life, that would allow the Dalai Lama to converse with the world's top scientists on themes that marry science and spirituality.
Not only has this provided a springboard for fascinating research into a whole host of phenomenon (such as the effect of meditation on mental health), it has also spawned a massive non-profit organisation and has funded dozens of grants and university programmes dedicated to these areas of study.
The future of the Dalai Lama
When faced with the difficult question of 'what next' – the Dalai Lama takes his notoriously good-natured and charismatic approach. After celebrating his 80th birthday this year, he still feels like he has a decade's worth of work to get on with, stating that at the age of 90 he will consult with key Tibetan figures to decide whether he will reincarnate or not. We hope that he does!
Not a pizza fan
And of course, we can't write about the Dalai Lama without mentioning his iconic moment of comedy gold, where an Australian news anchor tried to tell him a joke: 'The Dalai Lama walks into a pizza place and says, "Can you make me one with everything"'… only to be greeted with the best confused laugh we've ever heard. Turns out that, if you don't know what pizza is, you can't find pizza jokes funny. Go figure.
It's not too late to get your hands on some tickets and fill yourself with some spiritual wisdom; we know that @sbdavey is looking forward to it.
Yesterday I booked my ticket to see @DalaiLama who will be giving a speech about compassion at the O2 in London. #CanNotWait #Excited 😊😊😊

— Stephanie B Davey (@sbdavey) July 10, 2015
See you there, Stephanie!
16 Sep 2015
Join the club
Sign up to our newsletter and jump to the front of the queue.
Get access to exclusive updates and a heads-up on tickets.