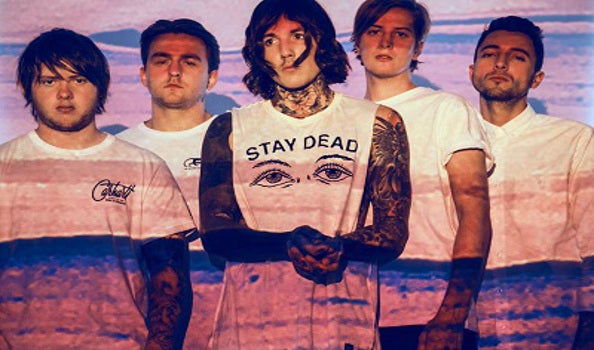 15 June 2016
The 8 Most Memorable Oli Sykes Moments
Once upon a time heavy metal wasn't everyone's cup of tea. That was until a little but LOUD band from Sheffield took it to the masses! Now you're as likely to hear Bring Me The Horizon on the radio as you are Justin Beiber.
And it's in no small part to Oli Sykes, the uber-cool front man of one of the most exhilarating, boundary-smashing rock bands on the planet. Ahead of Bring Me The Horizon playing The O2 in October and November we look at Sykes' career defining moments.
1. He's as big as he promised
For most bands, playing 12,000 fans at Wembley Arena might be a career high point. For Sykes, not so much. 'It's definitely not our peak,' he said after last year's gig. And he was right: when they play The O2 later this year, the capacity will be 20,000!
2. He trashed Chris Martin's awards table
Before performing at this year's NME Awards at O2 Academy Brixton, Sykes said he wanted to make an impression – and he certainly did. As the band tore through Happy Song he leapt onto Coldplay's table, smashing several bottles of bubbly, and continued singing from atop. 'Very rock 'n' roll,' was Martin's verdict.
3. He performed with his heroes when he was only 15
While the pre-fame Sykes was watching Funeral For A Friend in Leeds, the lead singer fell ill and couldn't continue. 'For some reason I put my hand up and said, "I'll sing!"' he later recalled. 'I got up onstage with them and it was the best day of my life.'
4. He smashed the You Me At Six video
We want to credit this best moment to @Carlyfacex. If you're after a spine-tingling grand entrance to a music video, check out Sykes tearing it up in You Me At Six's Bite My Tongue. Truly perfect, thanks Carly.
Still can't think of a more perfect moment than when Oli Sykes strolls out in the Bite my tongue music video

— Carly Costelloe (@Carlyfacex) 22 July 2015
5. He's conquering his addiction – with the help of his fans
Unbeknown to many, Sykes struggled with ketamine addiction, even spending a month in rehab. But he credits fans with helping him through. 'You guys had no idea I was in rehab,' he said later. 'But you were sending me letters, texts, emails, and when I got out I wanted to sing from the rooftops...so thank you!'
6. Remaining cool as a cucumber when attacked on stage
Any other frontman might be perturbed if a loser invaded the stage to fight. Not Sykes. When gig-goers attacked him in Salt Lake City – all because he asked them to stop throwing bottles – he laughed it off. 'Some fatty gets on stage and tries to hit me, in which he completely fails, misses and falls over,' he wrote after. And like a true rock star, the gig continued as planned.
7. He started his own clothing label
At 18, Sykes started his own fashion label with a £500 loan from his parents. Today, Drop Dead Clothing has a multi-million pound turnover, distributes across the world and has a flagship store in Carnaby Street, London. Oh, and Oli's mum Carol is now manager. Go mum!
8. He's written his own graphic novel
As if a famous rock band and minted clothing label aren't enough. Sykes has ventured into writing comic books too. Raised By Raptors, released in 2013, is his debut graphic novel and was set in a fictional Mexico where 'humans and dinosaurs co-exist.' Is there anything this boy cannot do?!