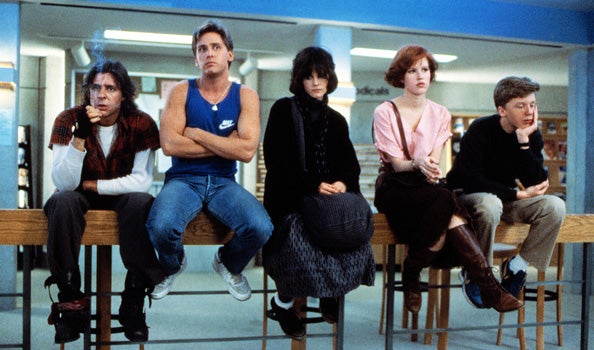 17 Aug 2016
The Best 80s Movie Quotes
If you grew up in the '80s or you just have seriously good taste in films, we're pretty sure you'll rememeber all of these. However if you don't just skateboard on down to the local Blockbuster and have yourself a video night in your Teenage Mutant Hero Turtles pyjamas.
The Breakfast Club
"I got a question. Does Barry Manilow know you raid his wardrobe?"
Labyrinth
"Your mother is a fraggin' aardvark!"
Stand By Me
"And while you guys are dragging your candy asses halfway across the state and back, I'll be waiting for you on the other side, relaxing with my thoughts."
The Goonies
"I'm gonna hit you so hard when you wake up your clothes are gonna be out of style!"
Ferris Bueller's Day Off
"The key to faking out the parents is the clammy hands. It's a good non-specific symptom, I'm a big believer in it. A lot of people will tell you that a good phony fever is a dead lock, but you get a nervous mother you could wind up in a doctor's office. That's worse than school."
Weird Science
"It can't be a dream! How can two people have the same dream? OK, let's analyse this. In the middle of the night, did I get up and yak in your sink? Didn't throw up? No? Maybe it was a dream then, you know, a very weird, vivid, erotic, wet, detailed dream. Maybe we had malaria."
Total Recall
"Now this is the plan: get your ass to Mars"
Back to the Future
"I'm sure in 1985 plutonium is in every corner drug store, but in 1955, it's a little hard to come by!"
Ghostbusters
"We came, we saw, we kicked its ass!"
E.T
"I just hope we don't wake up on Mars or something surrounded by millions of little squashy guys."
The Lost Boys
"You'd better get yourself a garlic t-shirt, buddy, or it's your funeral"
Gremlins
"It's the creatures! The creatures are making it look like an accident! Sheriff, SHERIFF! WILL YOU LISTEN TO ME?"