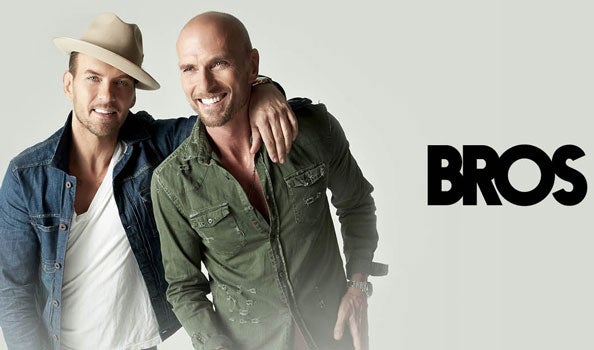 31 May 2017
The Come Back Kids
Once wasn't enough, for them, or us. The artists and bands that boomerang back into the charts and our hearts (aw).
Steps
Did they ever leave? H, Claire, Faye, Lee and Lisa burst into our lives in 1998 with 5,6,7,8 and went onto to sell over 20 million records worldwide but called it quits in 2001. They reunited in 2011 for a TV documentary and officially reformed in January this year. Thank goodness for that.
Endless love because: What's not to love really? When a Steps song is playing you know you're in for a good time, they put the P in Positive - they even make a 'Tragedy' happy! Cannot wait to see the moves in the tent this winter.
Craig David
Did he ever leave? We're still recovering from Craig's incredible two nights with us back in March, so it feels like he never left.
Endless love because: 7 Days. Come on. We can't even.
Did they ever leave? Norway yes, and into the world of pop stardom in the '80s. Since then, the guys took the odd hiatus here and there but they never quit each other or the denim, or the banging tunes. Let's also take a moment to appreciate the fact Morton holds the Guinness World Record for the longest live note held, 22 seconds no less. Respect.
Endless love because: TAKE ON ME.
Did they ever leave? No, not really. Jay and boys switched record companies and kicked back a bit but the band were always there waiting to acid-jazz their way back into our lives, and they choose this year to do just that with the awesome Automaton album and tour.
Endless love because: Jay Kay is still the coolest cat around and the insanely talented band make everything look easy.
Bros
Did they ever leave? The ultimate teenage dream-team of Luke, Matt and Craig exploded into the charts in 1988 and had girls everywhere in a spin and tears – of joy! Craig left the band in 1989, but Luke & Matt obviously stayed in touch and although they originally spilt in 1992 since last year they are back! And we have feeling some of those girls will be joining us in August too…
Endless love because: 'When Will I, Will I be Famous?' Oh, sorry. We just can't help sing that every time we think of them. And the hair, the eyes. Just everything.