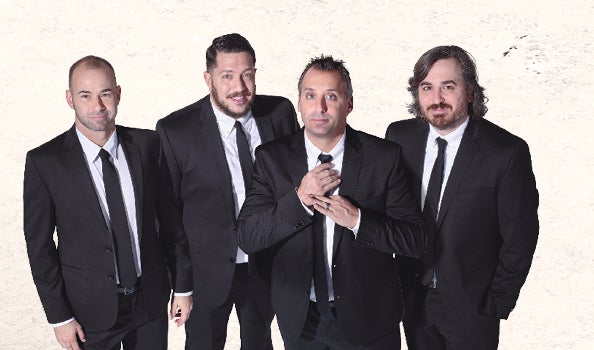 14 June 2016
The Most Groundbreaking Comedians EVER!
Being a good comedian is an art form. And to be a groundbreaking act on the cut-throat comedy circuit, you have to do more than just spit out side-splitting one-liners.
We've laughed till we've cried (and quite possibly wet ourselves) at some of these comedic cavaliers.
Monty Python
There are few comedy acts who have elbowed their way into popular culture quite in the same way as the Monty Python crew. From memorable mottos to their success in the music charts, the Pythons are undoubtedly one of the greatest British exports of all time.
Despite bursting onto the comedy scene in 1969, the team is still as relevant today as it was back when. In fact, the first night of the 2014 Monty Python Live (Mostly) shows at The O2 sold out in just 45 seconds. Beat that, Justin Bieber!
Ali G
When Sacha Baron Cohen burst onto the comedy scene at the turn of the millennium, people didn't quite know what to make of the tracksuit wearing rude boy from Staines. Fast forward 16 years and there's no denying he's made his mark on British comedy.
He's had a self-titled multi-million dollar grossing film, and appeared in one of Madonna's music videos. Now there aren't many comedians who can say that. Booyakasha!
Impractical Jokers
One comedy clan that's figured out how to use social media to its advantage is the Impractical Jokers. They've pushed the boundaries of common decency with their outlandish pranks, as you're sure to find out if you've managed to bag tickets to their UK tour at The O2 arena next January.
Highlights have included Murr facing the piercing roulette wheel, Q posing as the Queen on the banks of the Thames, and Sal challenged to get a Jaden Smith tattoo on his thigh in one of the most hilarious things we've ever seen. We're glad you agree, Charlotte Randell!
The tattoo punishment on Impractical Jokers will forever be the funniest thing to grace my tele #jaydensmith 😅😅😅😅

— Charlotte Randell (@xCharl_R) June 6, 2016
Alan Partridge
If you're after memorable lines, Alan Partridge is your man. From his first 'A-ha', to being taken hostage in his big screen debut, Norfolk's most prominent minor celeb has become a national treasure.
It's testament to Alan (and Steve Coogan's performance) that this narcissistic, incompetent Little Englander holds such a place in our affections. So much so, in fact, his best sayings have become part of everyday lingo. As the man himself might say, 'back of the net'.