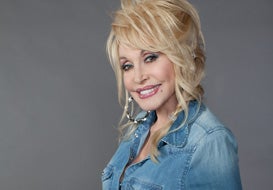 9

May

2014
The rockin' years of Dolly Parton
Humble beginnings
Dolly Parton has become an icon of pop culture as a country music star, actress and successful businesswoman. She has been writing and performing for five decades, creating classics such as Jolene, Nine to Five and her No. 1 country chart smash, I Will Always Love You. The fourth of 12 children, Dolly was raised in a one-room cabin in the Tennessee mountains before finding her passion for entertainment. Her musical career began aged 10 at her Pentecostal church and she made her television debut aged 12 on Knoxville TV.
Inspirations
Dolly takes inspiration from singers like Rose Maddox, Kitty Wells, Patsy Cline and Brenda Lee. She began her career during the 1960s, a time when women in the rural American south were the main audience for country music. Dolly's powerful lyrics made a big impact and her willingness to speak out made her popular with other female performers.
First success
Already recording for three different labels before finishing high school, Dolly made the brave jump to Nashville to take up music as a full time career. Her music took off when country music giant, Porter Wagoner, featured her on his television show in 1967, giving Dolly an audience of over 45 million.
At just 21, her debut album, Hello, I'm Dolly, was released along with the single, The Last Thing On My Mind, performed with Porter Wagoner. Her second single, Joshua, made it to No.1 in the US country charts.
Going solo
Dolly went solo in 1974 and released the international hit, I Will Always Love You. She was voted Country Music Association Female Artist of the Year two years in a row and won the title of CMA Entertainer of the Year in 1978. She also won a Grammy Award for Best Female Vocal Performance with her top ten hit, Here You Come Again in 1977.
Extra talent
Dolly has turned her talents to talk shows and TV specials, doing voice work for animated shows. She also starred with Jane Fonda in Nine to Five, receiving a Golden Globe Nomination. Did we mention that she's also the head of her own $100 million empire, Dolly Parton Enterprises?
If you're a Dolly fan, here's your chance to see her perform live at The O2 with her Blue Smoke World Tour. So grab your Dolly Parton tickets now and get ready to see a true country icon.