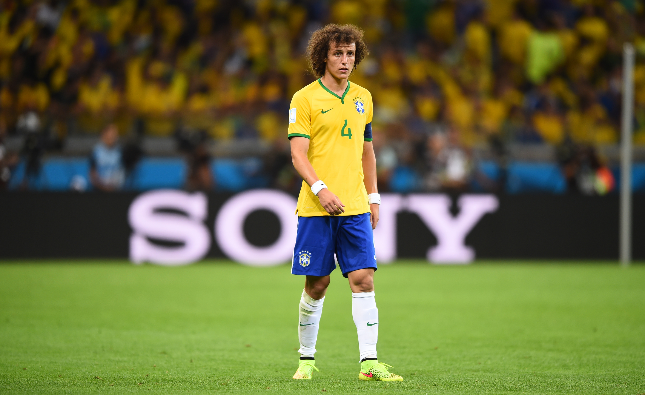 4 Aug 2014
The Summer of Sport's top five
If you love sport, this summer must've been a blast. You've had the World Cup, Wimbledon, the Open golf, the Tour de France, Formula 1, Test cricket, the Commonwealth Games and it's not over yet. From the highs of individual triumphs to the lows of England's footballing nightmare, you've been there every step of the way. You've cheered and cried with your heroes, loyally remaining glued to the sofa, tipple of choice in hand. So here's to you, the sports fan. And in your honour, here's our countdown of the top five moments from the Summer of Sport.
5. The Inspiration - Greg Rutherford leaps to Commonwealth Gold
Since his famous Olympic victory at London 2012, long jumper Greg Rutherford has been hampered by a whole host of injury problems, never really hitting the heights of his former glory. After losing his kit sponsor and failing to qualify for the World Championship final he thought his career might be over. But after a lot of training and a series of pain-killing injections, Greg took to the Glasgow track and proved the doubters wrong, becoming the reigning Commonwealth and Olympic champion with a jump of 8.20m. This guy's got guts.
4. The Controversy – 'You shall not pass.' Don't mess with Lewis Hamilton
Contending with a fire during qualifying saw Lewis Hamilton start the Hungarian Grand Prix back in the pitlane while his teammate, Nico Rosberg – the Drivers' Championship leader - began in pole position. No one expected what happened next. Despite spinning the car, Lewis managed to claw his way up the field into third place. But with just over 20 laps left, his team, Mercedes, asked him to make way for Nico, who found himself struggling in fourth with one pit stop still to go. A shocked and stubborn Lewis didn't budge, holding on for third place just ahead of his rival. Now who'd like to be a fly on the wall in their next team meeting?
3. The Pride – On yer bike. The Tour de France crosses the Channel
The oldest and most prestigious race in cycling's event calendar made a little detour (see what I did there?) when the Grand Départ came to the UK. With not one, but two British winners in the past two years and a whole heap of Olympic medals to boot, cycling's popularity has spiked to previously unthinkable levels. It was this success that convinced the organisers to return to the UK earlier than planned and no one was disappointed. The challenging route wound its way through the crowded streets of some of our most historic cities, not forgetting to take in the dramatic scenery of the Pennines along the way. Well played, Britain. Well played.
2. The Tear-jerker – Federer goes down fighting
As Kurt Cobain wrote, '…it's better to burn out than to fade away.' And that's exactly what Roger Federer had in mind when he battled to the death on Centre Court in a bid to win a record eighth Wimbledon title. His opponent, Novak Djokovic, represented the new guard of players who have largely kept Roger's name off the major trophies for the past five years. But the old master would not go quietly, proving that he's still got more than enough juice in the tank. Coming back from two sets to one and five games to two down in the fourth set, the man in the twilight of his career saved a championship point and fought to take the match into a fifth and final set. The crowd played every shot with him, willing him on to a fairytale victory that never came. Novak eventually broke serve and held on to send Roger and his historic dreams packing. Will we ever see him in the final again? Gosh, I seem to have something in my eye…
1. The Shock – Germany smash Brazil. At the World Cup. In Brazil
Pelé. Ronaldo. Ronaldinho. Falcão. Romário. Cafu. Sócrates. Kaká. Your boys took one hell of a beating. This much anticipated semi-final clash had everyone on the edge of their seats, but not for the reason you'd expect. The winners of a record five World Cups and arguably the globe's greatest footballing country were humiliated on home soil by a German side that looked completely unstoppable. Instead of the hotly contested battle of the team in form against the pumped host nation, Germany managed to score four goals in six minutes, killing the game and with it, the hopes of 200 million people. They went on to hit seven, allowing Brazil just one goal as a measly consolation prize. The pundits were stunned. Open-mouthed. But unfortunately, not speechless. Surely the team that had previously achieved so much couldn't be so roundly hammered in their own back yard. Some people laughed. David Luiz cried. And Brazil will have to wait at least four years to get their own back.
Image credits:
1. Agência Brasil, 2. Brian Minkoff-London, 3. Hugh Venables, 4. emperornie, 5. Robbie Dale.