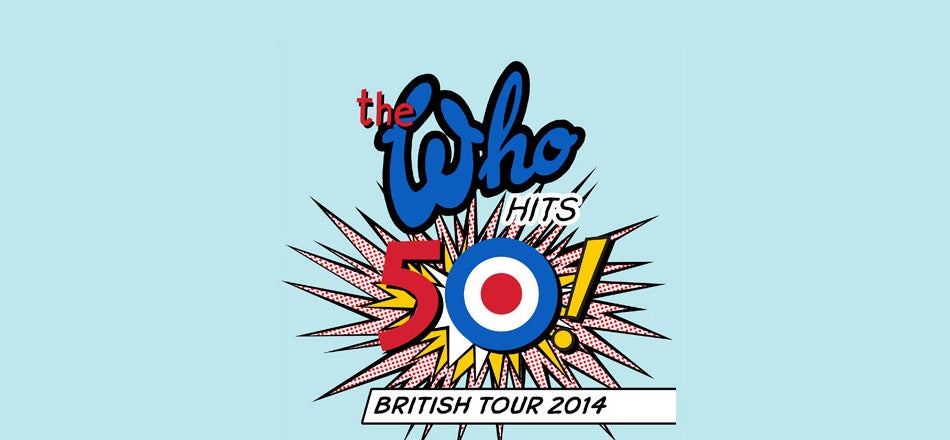 4 July 2014
The
Who
We've been a bit manic this week as not one, but three new shows were announced. Paolo Nutini tickets went on sale for his debut headline show under the tent later this autumn. The Who are celebrating their 50th anniversary with a tour taking in all their greatest hits. And finally, make sure you don't miss out on Mrs Brown's Boys tickets, as Brendan O'Carroll's brand new live show hits the road next year. Fans of Monty Python can also drop in this month for a bit of world exclusive merchandise.
The Who - 17 December 2014
The Who have sold over 100 million records since forming in 1964 and now they're bringing their 50th anniversary tour, WHO HITS 50 to The O2 this Christmas. Playing all their classic anthems, the show will take the audience on a journey through their entire career, from the days of The High Numbers to seminal albums like, Who's Next, Tommy, Quadrophenia, My Generation and more. Roger Daltrey says, 'This is the beginning of the long goodbye', so make sure you don't miss out on what could be one of your last chances to see them live.
Paolo Nutini - 30 October 2014
Singer, songwriter and musician, Paolo Nutini, will be headlining his first show under the tent in October. Earlier this year, his third album, Caustic Love, went straight in at the No. 1 spot to much critical acclaim with the Independent describing it as, 'a deep soul masterpiece' and The Times hailing it as, 'his best album to date'. 2014 is looking bright for Paolo. He's just played Glastonbury and is set to perform as the penultimate act at T in the Park and V Festival in August.
How Now Mrs Brown Cow - 7 to 11 July 2015
The award-winning, Mrs Brown's Boys, will be coming back to The O2 next summer with the How Now Mrs Brown Cow show. Mrs Brown's Boys has become one of the most successful series on television, picking up lots of awards including a TV BAFTA for Best Situation Comedy. Mrs Brown's Boys Live has also seen box office records fall across the UK and Australia. In between their last ten-week tour, the cast even managed to squeeze in the filming of their first full-length motion picture, Mrs Brown's Boys D'Movie.
Book Mrs Brown's Boys tickets.
Monty Python Pop Up square
And now for something completely different. For a limited time only, we're hosting an exclusive Monty Python Pop Up Square inside The O2. We're the only place in the world selling official merchandise, so make sure you don't miss your chance to get your mitts on some rare gems. Nudge, nudge. Wink, wink. Say no more. We'll also have plenty of live music to keep you entertained and a wide range of food and drink stalls. No spam though, sorry.
Click here for Monty Python Pop Up Square opening times.