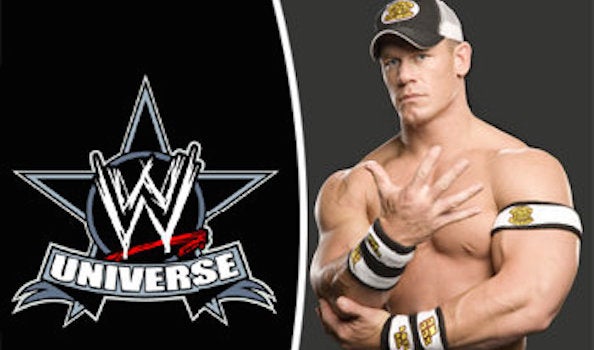 9 Feb 2016
The 10 Greatest WWE Superstars Of All Time
Raw and Smackdown is back. And it's coming to The O2 in April! Here's our pick of the most charismatic and influential figures in the history of WWE...
THE ULTIMATE WARRIOR
One of the most intensely insane performers to ever lace up a pair of wrestling boots, Warrior was at one point the biggest star in the WWE – even managing to eclipse Hulk Hogan at the peak of his powers – thanks to his fan-friendly combination of whirlwind entrances, maniacal interviews, high octane performances and trademark neon face paint. His tragic passing in 2014 was made particularly poignant by its timing: less than 24 hours after his induction into the WWE Hall Of Fame.
TRIPLE H
While marrying WWE owner Vince McMahon's daughter certainly helped his career, the fact remains that regardless of family ties, 'The Game' has been consistently competing at the highest level for over two decades, winning 13 world titles in the process. Having your own walkout theme written and recorded by Motörhead is pretty badass, too.
BRET 'THE HITMAN' HART
Dubbed the 'Excellence of Execution' by legendary WWE commentator Gorilla Monsoon, Hart's technical and athletic style was a real game-changer in his mid-'90s heyday, pushing the boundaries of in-ring performance to previously unseen heights. And regardless of his wrestling skills, any man that can pull off pink spandex deserves a big thumbs up in our book.
ANDRÉ THE GIANT
The 'Eighth Wonder of the World' wowed audiences in the '80s with his unbelievable size and strength – the result of a rare growth hormone condition that eventually led to his untimely demise at the tragically early age of 46. Larger than life in every sense, André was also famous for his love of drinking, which allegedly included being able to knock back over 100 beers in one sitting.
SHAWN MICHAELS
Michaels paved the way for current stars such as Daniel Bryan and Chris Jericho, by proving that lean and agile wrestlers could be viable main eventers, following the era of enormous champions in the late '80s and early-'90s. The 'Heartbreak Kid's' all-action style and charismatic (if sometimes polarising) personality helped him become one of the most popular WWE superstars of all time – especially after he returned against all the odds in 2002 after four years out with a (supposedly) career-ending back injury.
JOHN CENA
Love him or hate him – and for older fans, it's often the latter – it's impossible to deny Cena his status as the top dog in WWE, a position he's held for over a decade. A 15-time world champion with a comic book physique (and a squeaky clean image to boot), the 'Cenation Leader' is also a true gent outside of the ring. Known for his extensive charity work, he currently holds the record for most appearances with the Make-A-Wish Foundation, which helps children with life-threatening illnesses. What a guy.
HULK HOGAN
Arguably the most iconic wrestler of all time Hogan's finger pointing, shirt ripping, leg dropping antics inspired entire generations of Hulkamaniacs to say their prayers and eat their vitamins (prompting @Tubes_Wasted to name him 'the greatest athlete ever'). All of which makes his disgraced exit from the WWE last summer even more depressing.
Hulk Hogan is the greatest athlete ever

— Joe Harland (@Tubes_Wasted) January 26, 2015
THE UNDERTAKER
Taker's legendary 21-match unbeaten streak may have finally been broken by Brock Lesnar at WrestleMania 30, but the man from Death Valley remains one of the WWE's most enduringly popular superstars, more than 25 years after making his debut. His iconic undead persona (we'll excuse the short-lived 'American Badass' phase) deceptive athleticism and array of classic finishing moves have seen him outlast countless contemporaries, along with his uncanny ability to survive being locked in burning caskets and buried alive. Truly one of a kind.
STONE COLD STEVE AUSTIN
Austin was the WWE's biggest star during its most successful ever period in the late-'90s, with his hell-raising, beer-swigging, anti-authoritarian persona resonating with fans in a way that no other wrestler has managed to replicate before or since. His forced retirement in 2003 – due to a piledriver-induced broken neck suffered years before – has left a void in the company that no one has yet managed to fill.
THE ROCK
Since quitting full-time wrestling in the early '00s, Dwayne Johnson has gone on to become one of the biggest stars in Hollywood, proving that wrestlers CAN cut it on the silver screen (the less said about Hulk Hogan's Mr. Nanny, the better). Yet despite his crazy schedule, 'The Great One' still finds time to add to his legacy in the squared circle – which included winning his eighth world title in spectacular fashion at the Royal Rumble in 2013, the same year that Forbes named him as the world's highest grossing male actor.