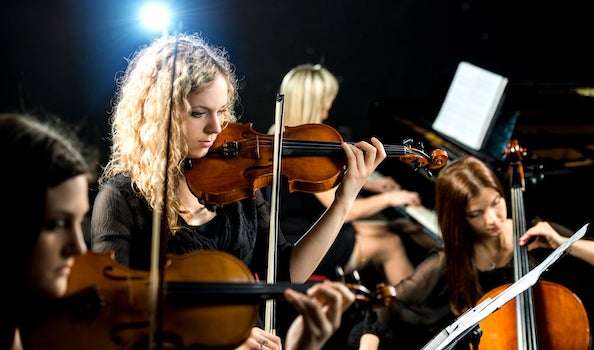 15 Dec 2015
The 7 Most Iconic Film Scores
It's way too easy to forget how important a film's soundtrack is until you take it out. Remember those music lessons at school, where your teacher shows you how un-scary a horror film seems if you switch the ominous tones for comical Tom & Jerry music?
Every movie's sweeping strings and musical motifs help to tell the story and set the atmosphere as much as the dialogue itself. Some scores, however, really stand the test of time and, even though the film can't be enjoyed without the music, you can definitely kick back and listen to the soundtrack just by itself.
Here are some of the world's most iconic film scores, by some truly genius composers.
Star Wars - John Williams
In 1977 the triumphant trumpets that kicked off A New Hope blasted into people's minds and became probably the most recognisable film score in the world. From the Stravinsky-esque magical drama of the Main Title, to the genuinely hilarious alien Cantina Band jazzy riff, John Williams cemented himself as one of the real greats in cinema history with his compositions. It's no wonder it won a well-deserved Oscar for Best Original Score. The question is, though – how will it hold up in the brand-spanking-new episode of this epic saga? @rianda99 recently tweeted, 'I don't know a more evocative film score than Star Wars. Just makes my heart soar and I CANNOT WAIT TO SEE IT ON THE BIG SCREEN AND CRY.' We hope they'll be happy tears, Rianda!
I don't know a more evocative film score than Star Wars. Just makes my heart soar and I CANNOT WAIT TO SEE IT ON THE BIG SCREEN AND CRY

— rianda (@rianda99) October 20, 2015
The Lord Of The Rings: The Fellowship of the Ring - Howard Shore
Cast your mind back to 2001 and the release of the much-anticipated first Lord of The Rings film. Why? Because everyone who had seen it was whistling the fanfare-esque melody that signalled Frodo and his mates marching down to Mordor to chuck that pesky ring in a fire pit. Howard Shore cleverly created a score that was epic, masterful, but also catchy – ensuring a recognisable franchise that would go on to win multiple Oscars (beating Harry Potter, no less) and garner international acclaim.
The Dollars Trilogy - Ennio Morricone
Ennio Morricone, who will be gracing The O2 with his majestic presence in February, is known to hold the keys to many of cinema's most beloved soundtracks, including Cinema Paradiso's nostalgic clarinet theme, and his haunting masterpiece, Gabriel's Oboe, for the 1986 drama The Mission. However, it's his work on Spaghetti Westerns which are definitely the most recognisable. His songs The Ecstasy Of Gold, and the eponymous The Good The Bad And The Ugly have become almost synonymous with the film genre itself, and include all our favourite Morricone details, such as chanting, yodelling, whistling and lots and lots of horns. In the (now) eternal words of @PatrickGMusic: 'There's great film music and then there is Ennio Morricone.'
There's great film music and then there is Ennio Morricone.

— Patrick Gill (@PatrickGMusic) August 7, 2015
Lawrence Of Arabia - Maurice Jarre
It's hard to imagine it now, but David Lean did not have Jarre as his first, or even second choice for scoring his world-famous 1962 desert-based war film. They say 'third time's a charm' – so when Jarre did finally come along, with only six weeks to write the ENTIRE score – he absolutely nailed it. Listen to those expanding strings and suddenly you're surrounded by sand dunes and desert storms. This percussive and energetic score completely encompasses the exotic romance of the Middle Eastern setting, and we reckon that even if you haven't seen the (incredibly, incredibly long) film, you'll definitely recognise the soundtrack.
Inception - Hans Zimmer
When the trailer for Inception came out, nobody knew what to expect. Psychological thriller. All-star cast. Mind-warping cinematic effects. A plot so insular and complex, everyone's Dad needed it explained to them a dozen times. What it needed was a soundtrack that was modern, minimal and massive – something that Zimmer does with a practised genius. The most famous segment, aptly named Time, merges heartbeat drums, dramatic strings and Ennio Morricone-inspired electric guitar, played by Johnny Marr of The Smiths fame.
The Hours - Philip Glass
Known as one of the greatest minimalist composers of modern times, Glass created a soundtrack for The Hours that will go down as one of his most cherished works. A beautiful film that weaves together the story of three women, intrinsically linked by the novel Mrs Dalloway, the score's repetitive and emotive qualities reflect the tragedy lingering behind the narrative, and also the transience of time. A beautiful and timeless extension of the story itself, it also happens to make excellent background music for concentration, FYI.
Requiem For A Dream - Clint Mansell
If you want to make something seem terrifying and end-of-worldly; pop the Requiem For A Dream soundtrack over it. The Kronos Quartet performed this universally-recognised score, and its most famous song, Lux Aeterna, has now been used as a backdrop for a wealth of footage, including a trailer for LOTR: The Two Towers, and Match Of The Day montages, many, many times.