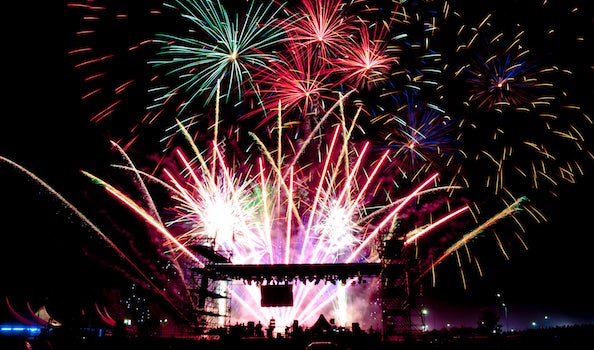 21 Sep 2015
The Greatest Pyrotechnics Displays EVER
Who's Taken It The Furthest
Is it us, or is it getting hot in here? We all know that artists like to have some fun with their live shows, but in the process some come dangerously close to setting themselves, and the crowd on fire. Here are some of the acts who take their pyrotechnics to another level.
One Direction
Being the biggest band in the world means that One Direction make sure they arrive with a bang at every given opportunity. If you catch them at an arena, it's reasonable to expect fireworks and explosions upon their entrance. One Direction's performances are always a sight for the eyes, with brilliant lighting displays and an atmosphere unlike any other. Their use of pyrotechnics is just the cherry on top of the cake, as @yeahstyles puts it, 'nothing will ever beat the fireworks at a one direction concert.' We're looking forward to more explosive shenanigans at the 1D gig at The O2 later this month...
nothing will ever beat the fireworks at a one direction concert pic.twitter.com/nya9051Alx

— tash (@yeahstyles) June 23, 2015
5 Seconds Of Summer
Poor old 5 Seconds Of Summer had an unfortunate mishap with their explosives during their recent trip to the UK. Whilst playing their hit song, She Looks So Perfect, guitarist Michael Clifford stood a little too close to the sparks and his hair CAUGHT ON FIRE! Fortunately, after a check up he was okay, but it just goes to show, being a rock star isn't as glamorous as it always seems. (Although it must've looked pretty awesome from the front row!)
Rammstein
The kings of German metal have practically got pyrotechnics in their blood. It's guaranteed that when you buy a ticket to a Rammstein show, you're in for a totally over-the-top, theatrical experience. From making their entrance on platforms shooting sparks and fireworks, to the guitar players who attach flamethrowers to their face – there's just got to be something on fire at all times. An average Rammstein show will include: 80 spark-producing devices, 10 mortars, 40 cannon bursts, 10 grid rockets and 60 kilograms of fireball-producing powder. Health and safety? Not when Rammstein are in town.
McBusted
When McBusted announced their formation and a headline tour to go along with it, everyone knew it was going to be a spectacle and a half. A giant pair of breasts, a spaceship and a DeLorean later; and fans certainly got what they paid for. Making an entrance in true Back To The Future style, with flaming speed stripes and explosions of sparks from the outset, it was obvious the band had gone ALL OUT with the pyro, and the entire performance was not only designed to be a nostalgic journey through their combined greatest hits, but would also have jaws on the floor from the abundance of fire.
A Day To Remember
You know those crazy house parties you go to, where thousands of people show up and there's confetti explosions and giant flames? No? Well that's exactly what A Day to Remember's gig felt like when they came up with the House Party tour. Not only did they build an actual house for their backdrop – it even had a balcony, which, of course, was set on fire in the finale – but their performance was accompanied by powerful smoke blasts, confetti cannons and explosive fire bombs which would be set off during the gnarliest of riffs. Safe to say we'll never go to a house party like that again.