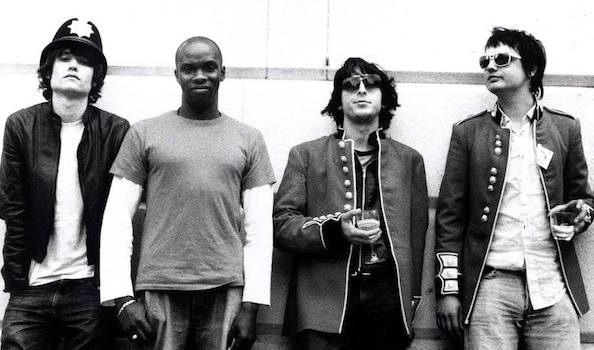 15 Dec 2015
The Libertines: How One Band Influenced A Generation
The Libertines; the darlings of NME. A band who, despite a severely rocky and controversial career over the past twenty years, have achieved legendary status across the UK – something that will be reignited further when they play The O2 in January.
Forming in the late '90s, The Libertines were known for their 'guerrilla gigs', often held in the living room of their Camden flat and in small pubs and clubs around London. From the early days, they developed a cult-like following and still retain a strong and adoring fanbase. As @GillsF neatly sums up: '@libertines changed my life.'
. @libertines changed my life

— Gillian Fish (@GillsF) April 15, 2015
Despite actually only ever recording three albums in their 20-year career, they became the inspiration behind a new generation of indie music. Their existence spawned countless bands who went on to great things. The Libertines had revived a genre that many had completely forgotten about.
The interesting thing, though, is that The Libertines never set out to become a mainstream act, who achieved vast success in the charts. They weren't bothered about airplay or making a hit record. They preferred to keep things DIY, with a more underground punk image and ethics. Having said that, it was precisely this anarchic, punk ideology that grabbed the attention of the music press and national radio stations.
Their debut single, What A Waster, initially received little reception. However, upon the week of its release, the song made it into the UK Top Four – leading to their first magazine cover, of course, on the front of NME. From there, each single saw more commercial airplay as the era of guitar bands was beginning to resurface.
This left the door wide open for other bands to hop aboard the rising wave The Libertines had created, and indie bands started popping up left, right and center. The Arctic Monkeys told us how good we looked on the dancefloor, Razorlight were obsessed with a girl who had a Golden Touch and Kasabian had a problem with Club Foot. Fast-forward to the present day and all of the above have now reached festival-headliner status, with other similar acts such as The View, The Pigeon Detectives, The Cribs and Mystery Jets all having garnered significant recognition for their music.
There's no denying that, even with all the success and adoration, The Libertines have had their fair share of problems throughout the years. But it's incredible to see the love shared for a band who paved the way for so many. The O2, in particular, cannot wait to welcome them back with open arms.