Home
The Most Life-changing Burgers In London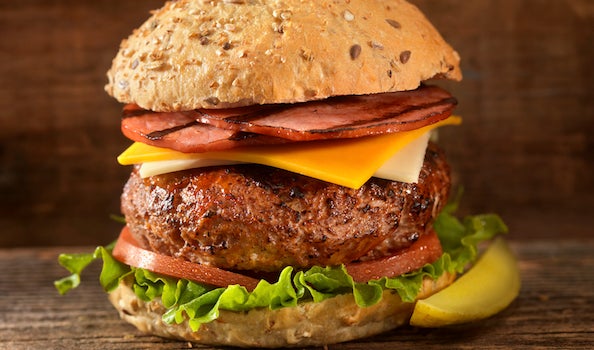 19 Nov 2015
The Most Life-changing Burgers In London
Oh burgers – the sandwich of dreams. There's something about the endless selection of fillings, sauces and garnishes that means they'll never get boring.
We remember the days when it was just a simple salad and a smear of ketchup, but these days it's a very different story. Burgers have become epic. Onion rings, a plethora of cheeses, fried eggs, maple-baked bacon and brioche buns enhance the simple American sandwich, and elevate it to new, previously undiscovered levels.
The five best burgers in London? We're glad you asked...
Le Smokey, Byron
We don't know if it's that hickory-smoked chilli-kick BBQ sauce, the tangy mature cheddar or the crunchy, crispy onions – but there's something magical about this burger. Especially as you can add toppings and adapt at your will!
@5tilton has been enjoying Byron's American cuisine: 'Just had an awesome burger from Byron at the O2 with the father!' Well, with a Twitter handle like that, we hope you and your Dad got an extra topping of blue cheese!
£9.95
Just had an awesome burger from Byron at the O2 with the father!

— Sam Hilton (@5tilton) January 14, 2015
Gaucho Burger, Gaucho
Most people head to this Argentinian restaurant for its iconic steak – but you're missing out if you don't try their succulent, exceptional burger. Made from a mince of their four best cuts, the burger itself is of unsurpassable quality, and with a rich garlic mayo, caramelised onions, bacon and provolone cheese – it's also deeply indulgent.
£15.95
The Don, Gourmet Burger Kitchen
Blue cheese and beef is a match made in heaven – and served with rocket and onion jam in a sweet brioche bun, the combo really shines through. The only thing that could improve it is some kind of bacon sauce, but that doesn't…oh wait. It comes with BACONNAISE? Okay, sold.
£9.85
Cheeseburger, Five Guys
The trick with five guys is to choose a simple classic, like a cheeseburger, and add every single topping possible. Only then can you enjoy the kind of blissful mustardy, oozing onion-melt that makes you think of post-victorious football match burger vans on a cold night. We think it may have massively changed @belliwales life: '1st @FiveGuysUK burger in the @TheO2. Why have I been going to McDonald's?!'
We've got no idea – but something tells us you've found something better!
£8
1st @FiveGuysUK burger in the @TheO2. Why have I been going to McDonald's?!

— Chris Mathias (@belliwales) June 10, 2015